A Journey Towards a New Church; New Life: The Basic Ecclesial Communities Of St. Louis-Marie Grignion De Montfort Parish, Dagupan City
Montfort News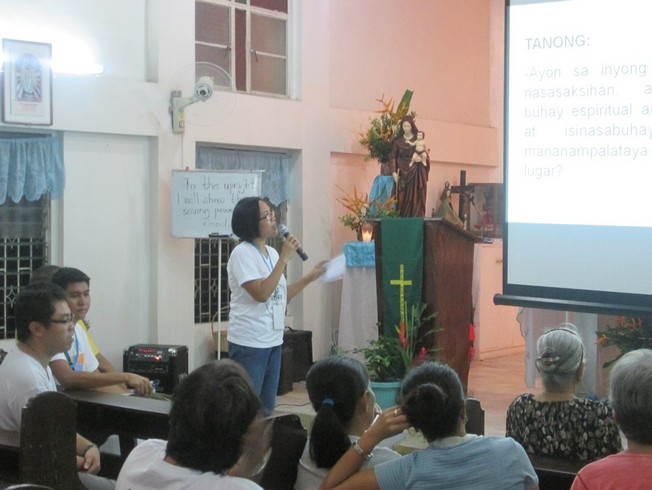 DAGUPAN CITY, Philippines - After a very fruitful Facilitators' Training and Workshop on the Basic Ecclesial Community for the active lay leaders of the Parish of St. Louis-Marie Grignion de Montfort, Dagupan City, everyone was enthusiastic to begin the mission.
On June 26, 2016, Sunday, the BEC Facilitators were officially 'sent' through the celebration of the Holy Eucharist at Bolosan. It was presided by the parish priest, Rev. Fr. Santiago E. Casing, SMM with concelebrants, Rev. Fr. Arnel V. Pagaduaan, SMM, parish vicar and Rev. Fr. Norwyn V. Baydo, SMM, the homilist.
The BEC Facilitators with their burning zeal for evangelization, have started giving the BEC Seminars to the three Zones of the Pilot Mission Area which is the District of Mangin, Dagupan City. On July 2-7, 2016, the seminar was held at the Esguerra Compound for the community in Zone A. Although there was an outpouring of rain, it did not hinder the people to participate in the seminar. Their intense desire to build the Basic Ecclesial Community remained steadfast. On the last day of the seminar, two BEC clusters were formed. On the next day, there was a Blessing of the Family Mission Cross and a procession to Zone B followed. A very good number of people joined the celebration especially the community of Zone B, as they have joyfully welcomed the Parish Mission Cross, the Image of Our Lady of the Way and St. Louis-Marie de Montfort to their Chapel. The BEC seminar for Zone B was held on July 11-16, 2016. The active participation of the lay faithful during the seminar was very motivating and inspiring. The BEC facilitators have worked much for the glory of God. In Zone B, there were four BEC Clusters that were successfully formed at the end of the 6-day seminar. On July 17, Sunday, the mission at Zone B ended with a Eucharistic Celebration at 6:30 in the morning. The Family Mission Cross brought by the families were being blessed, as a sign of the Montfortian Mission in their community and a constant reminder for them to continue the mission of Christ. It was also on that same time, wherein the SMM Scholasticate Community, headed by Rev. Fr. Norwyn V. Baydo, SMM, the Master of Scholastics and the four Scholastics expressed their gratitude for their hospitality, generosity and love as they bid farewell.
The BEC Seminar for Zone C was held on July 19-24 at the residence of Architect Ganaden. The BEC Facilitators together with our parish priests have worked together. At the end, they have successfully formed four BEC Clusters.
All Glory to God Alone!
-Bro. Armel R. Collantes, SMM
----------------------