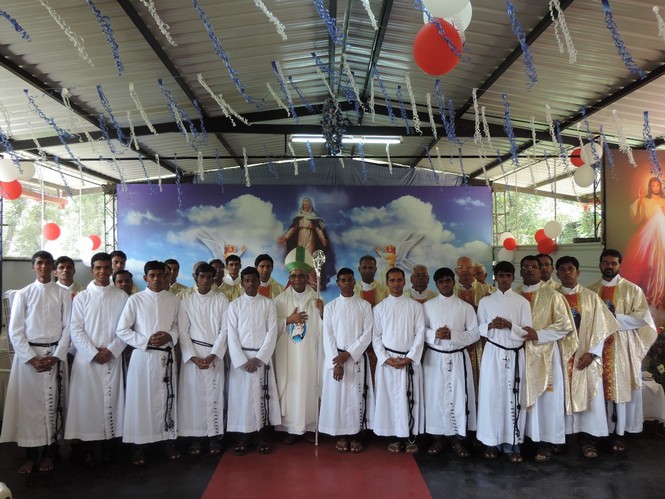 KANATHI, CHIKMAGLAUR, India – On 31st May 2016, nine Indian Novices made their First Religious Profession at the Assumption Hall of Sneha Bhavan. Rev. Fr. Michael Sahayaraj, SMM received the vows in the presence of the Novice Master, Rev. Fr. Reni, SMM and other Montfortian priests, priests from the diocese of Chikmagalur, other religious priests, nuns and friends.
It was indeed a blessing to the Montfortians in the world, particularly to the Vice - Province of India to have nine Novices pronouncing their vows. To add grace and blessing to the celebration we had the first Indian Montfortian Bishop, Rt. Rev. Raja Rao, SMM, the Bishop of Vijayawada as the main celebrant.
After the Holy Mass we had a short felicitation to the new Bishop and the newly professed. It was concluded with a fellowship meal.
For this year, the Vice-Province of India accepted 10 new candidates for the novitiate process on 29th of May 2016.
We request your valuable prayers for all of us and we assure you the same in your ministry.
Fr. Joji Antony Kalarickal smm
Montfort estate
Kanathi, Chikmaglaur
India
---------------------