Malawi: Inauguration of Tercentenary celebrations
Montfort News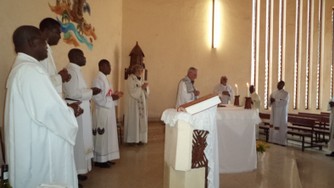 BALAKA, Malawi - On 15th August 2015, the Solemnity of the Assumption of the Blessed Virgin Mary, the Montfortian family in Malawi opened the celebrations of the tercentenary anniversary of the death of Father de Montfort with a Eucharistic Celebration at the Inter-congregational Institute of Philosophy and Religious Studies in Balaka.
During the Eucharistic celebration, presided by Fr. Owen O'Donnell, the vicar of Anglophone Delegation, Bro Ludovic Ahimbisibwe and Bro Nobert Tukwatanise Kashaija renewed their vows. Then the whole congregation joined together and prayed the Montfortian act of consecration to Jesus through Mary.
Over 50 members of the Montfortian family, namely Daughters of Wisdom, Fathers and brothers from Anglophone and Italian delegations, were present at the celebration, which was also attended by some religious from the neighbouring communities, namely Comboni missionaries, Carmelites, Holy Ghost fathers, Sisters of Servants of the Blessed Virgin Mary, and some invited Christians.
At the end of the celebration a delicious meal was offered in the Montfort Postulancy dining hall. Montfort ICI Postulancy community, the hosting community, extended their gratitude to all who graced the occasion with their presence.
Activities during the tercentenary year will include a symposium on Montfort spirituality and charism, some pastoral initiatives, radio and television programmes, vocation promotion rallies, retreats and publications. It is suggested that the closing of the Tercentenary jubilee in 2016 may be celebrated at St Louis de Montfort Parish in Blantyre archdiocese.
Fr. Jailos Mpina, Balaka
----------------------