Ordination to Priesthood in Indonesia
Montfort News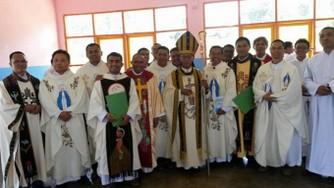 FLORES, Indonesia - On 13th July 2015, Deacon Yohanes J. Jedabu, SMM (Jeje), Deacon Timoteus J. Daman, SMM (Jefro) and Deacon Leonardus Tardi, SMM (Ardus) were ordained priests at St. Francis of Assisi Parish, in Poka, Manggarai, Flores.
They were ordained by Most Rev. Michael Angkur, OFM, retired bishop of Bogor, West Java. Fr. Yoseph P. Dwi Darma Watun, SMM, Assistant General, was present at the celebration together with priests and sisters and lay people.
Montfortian postulants and novices were part of the choir led by Fr. Apolinaris Dari Bani, SMM.
A few days later the new priests presided over thanksgiving Masses in their respective village: Fr. Jeje, SMM on 14th July 2015 in Poka; Fr. Jefro, SMM on 17th July in Copu and Fr. Ardus on 21st July 2015.
Our newly ordained confreres are now ready for their mission: Fr. Ardus will go to Putussibau Parish, Fr. Jeje to the community of the aspirants in Ruteng as a formator and Fr. Jefro in Nicaragua.
May God lead and guide them in their mission.
-Fr. Heredi Suhartono, SMM
-----------------------