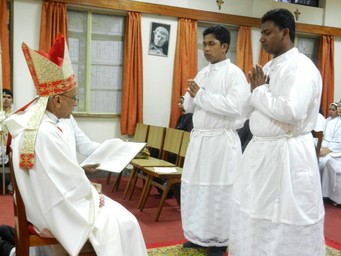 BANGALORE, India - It's been a great joy for the Company of Mary in general and particularly to the Vice-Province of India, as two of our brothers Robert and Prashanth made their Final Profession. Having completed their priestly studies in various stages of their formation, they prepared themselves along with the two brothers from Malawi for the Preparation for the Perpetual Profession. This stage lasted for three months, assisted by various experts under the able guidance of Fr. Peter Mascarenhas, the Director of the programme.
On the 8th of December 2015, the feast day of the Immaculate Conception and the Inauguration of the Jubilee Year of Mercy, our Brothers Robert and Prashanth made their Final Commitment in the Company of Mary. It was held in Maria Bhavan. The Eucharistic Celebration was presided over by Fr. Raja, the Provincial Superior, in the presence of many confreres, family members of the newly professed, and their friends and well-wishers.
A week after their Profession, Robert and Prashanth were ordained deacons on the 14th of December by His Grace, Bernard Moras, the Archbishop of Bangalore.
Fr. Dominic Selva Kumar, S.M.M.
Rector
Maria Bhavan, Bangalore
--------------------------