Presbyteral Ordination of Rev. Fr. Federick B. Yumang, SMM
Montfort News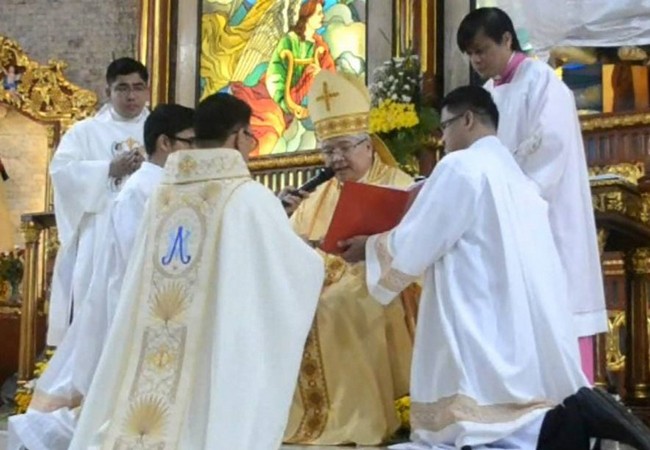 MAKATI CITY, Philippines - On May 13, 2016, Feast of Our Lady of Fatima, the SMM Philippines rejoiced in the Lord for the gift of a new priest in our congregation and to the whole church, in the person of Rev. Fr. Federick B. Yumang, SMM. The celebration of the Holy Eucharist started at 5:00 PM at Santa Teresita Parish, West Rembo, Makati City. It was graced by Most Reverend Socrates B. Villegas, DD, Archbishop of Lingayen-Dagupan as the ordaining prelate together with SMM Priests headed by Rev. Fr. Richard J. Magararu, SMM, the Delegation Superior and his council as concelebrants.
Archbishop Villegas in his homily has inspired everyone that the Church is so blessed to have a new priest. He gave a very inspirational message to Fr. Federick on how to remain a faithful and holy Montfortian Priest.
The celebration was attended by the whole Montfortian family: Montfort Missionaries, Daughters of Wisdom, Brothers of St. Gabriel and our lay associates, as well as the Bonifacio and Yumang Families and friends. A simple yet splendid meal was served at the covered court after the Holy Eucahrist. Everyone thanked the Lord through our Blessed Mother Mary for the gift of Fr. Federick to the Church. Glory to God Alone!
-Bro. Armel R. Collantes, SMM

-------------------------