"I Will Sing with All My Soul and Praise the Lord": Perpetual Profession of Bro. Ronald B. Baruela, SMM and Bro. Lester C. Bonete, S
Montfort News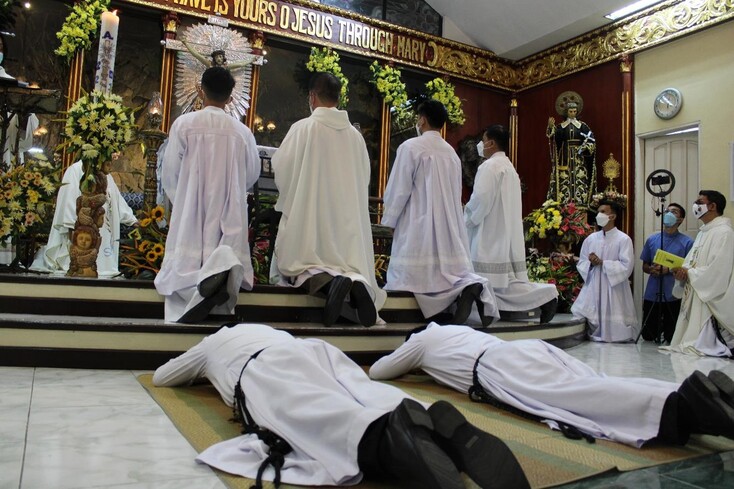 QUEZON CITY, Philippines
- The Montfort Missionaries Philippine Delegation celebrated in a very special way the Solemnity of the Immaculate Conception of Mary last December 8, 2021, with the Perpetual Profession of Bro. Ronald B. Baruela, SMM and Bro. Lester C. Bonete, SMM.
The celebration of the Holy Eucharist started at 5:00 PM in the chapel of the Montfort Center of Spirituality, Scout Madriñan, Quezon City. The Superior of the Philippine Delegation, Rev. Fr. Norwyn V. Baydo, SMM presided the celebration and on behalf of the Superior General, Rev. Fr. Luiz Augusto Stefani, SMM, received the vows of the two brothers in the presence of the Perpetually Professed members of the Delegation, the Collegians and Postulancy Community, Scholasticate Community, Santa Teresita Parish, Dagupan Community, Bulacan Community, Cebu Mission Community, Lay Associates, families and friends. Since it is held in the context of the pandemic, the celebration was live streamed on the Facebook Pages of the Montfort Missionaries Philippines and the Scholasticate Community for those who could not join because of the restrictions and protocols.
After the celebration of the Holy Eucharist, a sumptuous meal was served while having a short program to celebrate the joy of our two newly professed brothers in the Philippine Delegation. We also celebrated
the Perpetual Profession Anniversary of Fr. Norwyn, SMM and Fr. Roy, SMM, the Diaconate Ordination of Fr. Federick, SMM and Fr. Gener, SMM, and the Presbyteral Anniversary of Fr. Arnel, SMM.
It was indeed a grace-filled moment praising Wisdom, through the Blessed Virgin Mary for the gift of vocation to Montfortian Religious Life to the Church.
Bro. Armel Collantes, SMM
---