Appointment of Fr. Rui Manuel SOUSA VALERIO as Military Ordinary of Portugal
Montfort News
"Rejoice and be glad for the Lord has done great things for us." (Ps 126:3)
With immense joy, my brothers and sisters of the Montfortian family, that I communicate to you that today, 27 October 2018, His Holiness, Pope Francis has appointed our confrere, Father Rui Manuel Sousa Valerio, as Ordinary of the Military of Portugal. We congratulate him and pray that God fill him with his blessings and that the spirit of Saint Louis Marie Grignion de Montfort and the Blessed Marie Louise of Jesus continue to inspire him in this new mission of accompanying the military.
With grateful heart, let us thank God for continuing to shower his graces upon us and wish our confrere all the best in his mission.
Rev. Fr. Luiz Augusto STEFANI, S.M.M.
Fr. Rui Manuel Sousa Valério was born on 24 December 1964, in Urqueira, in the Municipality of Ourém (Portugal). In 1976 he entered the Seminary of the Montfort Missionaries in Fatima and continued his studies of 5 to 12 grades at center of Studies of Fatima (CEF). In 1984, he did his Noviciate in Santeramo-in-Colle, Bari, Italy and made his First Religious Profession on 6 September 1985.
He studied his philosophy at the Pontifical Lateran University in Rome and obtained the Bachelor's degree in 1987. Later he studied Theology at the Pontifical Gregorian University and obtained the degree in 1990 and received his Licentiate in Theology of Dogmatics in 1992. In 1995-96, he attended a "Missionary Spirituality" course at the International Montfortian center in Leuven, Belgium. In 1997, he did his PhD in Theology at the Portuguese Catholic University. He professed his perpetual vows on 6 October 1990 and was ordained priest at Fatima on 23 March 1991.
He was the Military Chaplain in the Navy where he served in the "Hospital da Marinha" in 1992 and 1993 and in the «Naval School» from 2008 to 2011. He was in the Parish of the Municipality of Castro Verde, Diocese of Beja, from 1993 to 1995 as coadjutor and as parish priest from 2001 to 2007. He worked for some years in the Training of Postulants and again he served as Coadjutor in the Parish of Póvoa de Santo Adrião, Patriarchate of Lisbon, from 1996 to 2001. He was appointed Parish Priest in 2011, a position he currently holds. For several years he has been a member of the Council of the Portuguese Delegation of the Montfortian Missionaries. At the Jubilee of Mercy in 2016, Pope Francis named him "Missionary of Mercy".
--------------------------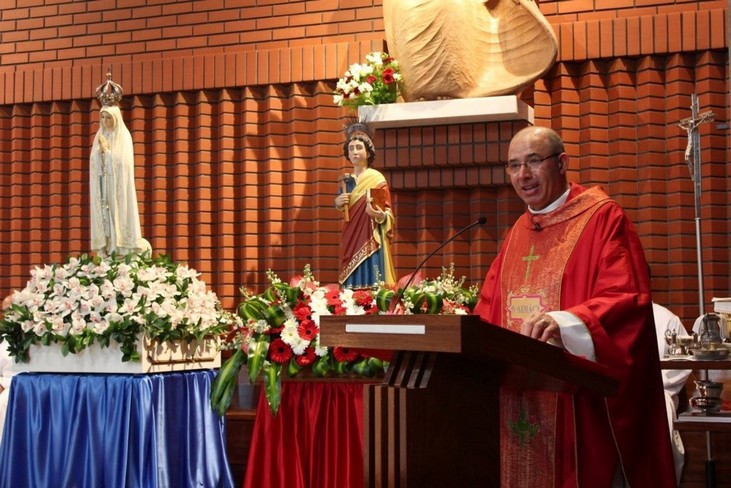 27 Oct 2018
May The Good Lord And His Holy Mother Take Great Care Of Him,Amen!!!