CONGO: the newly professed with DW in Kinshasa, on the feast of the Immaculate Conception
Montfort News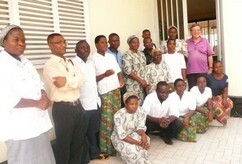 We made our first profession on Saturday, 12 October 2013 at Saint-Laurent. After a short holiday in our families, we arrived in the capital of the DRC. So it is three weeks since the new Montfort community was formed in the Foyer Montfort in Kinshasa. The quick formation of this community is due to the processing of the visas of three of our brothers who are going to Colombia and three others to India for language studies and theology.
During our stay, we had the opportunity to celebrate the feast of the Immaculate Conception with the Daughters of Wisdom in their new home in Kinshasa.
We, the newly professed DR Congo are en route to a new mission.


--------------------