Consecration to Jesus through Mary: Lay Associates of PNG
Montfort News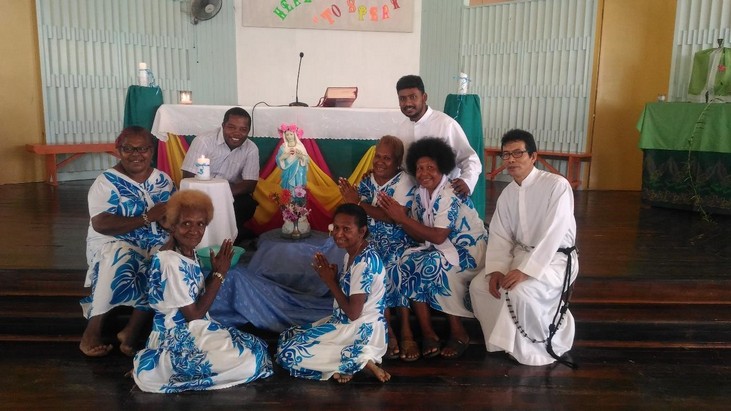 DARU, Papua New Guinea - On September 9, 20I8, there were five Lay Associates who made their Consecration to Jesus through the hands of Mary our Mother. The celebration was held at St. Louis-Marie de Montfort Parish in Daru located in the Southern part of the Western Province. Before making their consecration, they journeyed together, accompanied by Fr. Doris Tombaosa, SMM to prepare themselves in the light of "Totus Tuus Journey" proposed by our founder St. Louis-Marie de Montfort.
The celebration was solemn. Fr. Robert Perianayagam, SMM presided the Holy Eucharist and con-celebrated by Fathers Mateus Juang, SMM and Fr. Doris Tombaosa, SMM. The choir group of the students and religious sisters of the Daughters of Our Lady of The Sacred Heart (DOLSH) made the celebration more meaningful and beautiful. People from other Churches and denominations attended the celebration to pray and support their commitment.
In his homily, Fr. Robert encouraged the people and the Lay associates to pray, to love, to do charity and to promote unity in the family and in the communities. After the homily Fr. Doris received the commitment of the associates. As a sign of appreciation he gave them hand brace. After the communion prayer Fr. Robert, on behalf of Montfortian family, welcomed and congratulated the newly consecrated persons. The celebration was concluded with the fraternal food sharing.
-Fr. Robert Perianayagam, SMM
----------------------