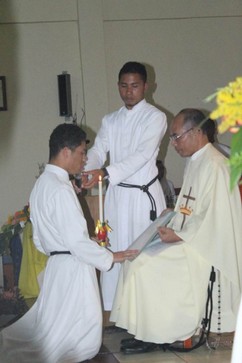 RUTENG, Indonesia- On May 31, 2014, 14 novices, among whom one lay-brother, made their first profession in Ruteng in the hands of Fr. Stefanus Seli, SMM, their Novice Master, who represented the Superior General, Fr. Santino Brembilla.

The finishing touch of their preparation was given during a retreat guided by Fr. Wim Peeters, SMM. In July they will move to the Montfort Scholasticate in Malang.

This year also, another 10 new novices have started their Novitiate formation in Ruteng on March 25, and some 30 new Postulants are expected to enter this July. We recommend them in your prayers.


-Fr. Wim Peeters, smm






---------------------