INDIA: Entry to the SMM Novitiate
Montfort News
We are happy and overjoyed to write about our entry to the novitiate.
The day that we cannot ever forget and a beautiful moment to cherish to the days to come.
KANATHI
,
India
– On 30
th
May 2018, during the morning prayer, in the presence of our Superior General, Rev. Fr. Luis Augusto Stefani SMM, the General assistant, Fr. Rozario Menezes SMM along with the Secretary General, Fr. Balaswamy SMM, our Novice Master, Fr. Reni Joseph SMM and many of our Indian confreres, we made our entry to the SMM Novitiate.
During the rite, we were given the Holy Scripture, SMM Constitution and a Montfortian Cross to wear on our neck. We were excited to receive them as powerful symbols of our connection with the Lord Jesus and to the Congregation. Rev. Fr. Balaswamy gave a very meaningful homily that inspired all of us as he invited us to enter in the very womb of our Blessed Mother to be formed in the image of her Son Jesus. Hence, we Balraju ARIKA, Prashanth KUMAR and Vijay PRAKASH were introduced to the Montfortian Religious life. We thank our Superior General for his valuable presence and in accepting us to the SMM Novitiate.
----------------------------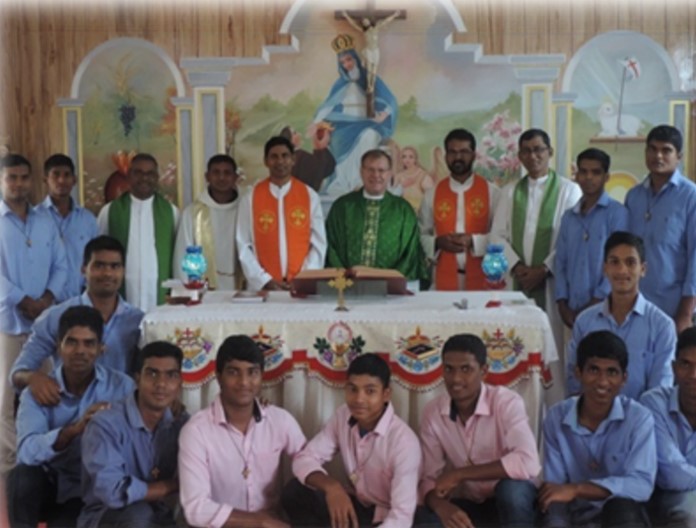 12 Jun 2018
Dear Balraju Arika, Prashanth Kumar and Vijay Prakash,
My name is Patrick Brennan, but everybody calls me Pat. I live in North East England and I am a former Montfortian student, but I left about half way through my novitiate, so never reached priestly ordination. In fact I entered the novitiate here in England, fifty years ago in August of this year. I still keep in very regular contact with Montfortians here in England, as well as Malawi, Uganda and Kenya. I have been five times to Uganda, staying with my England-born, Montfortian priest friend, Fr Charlie Beirne. Charlie moved back to Malawi over two years ago, having been in Uganda for 26 years, but before Uganda he began his African ministries in Malawi.
Like yourselves, I receive the regular SMM Communications from the General House in Rome, which I always find very interesting, very inspiring and very heart warming.
I congratulate all three of you entering the novitiate on the 30th May. You will be in my daily prayers.
I am very interested and fascinated by your wonderful country and have never visited, but God willing I would love to visit.
I have tried for about a year to make contact with any Montfortians in India. Maybe each time I communicate as I am with you all now, my emails and messages are not reaching anybody. I pray one or all three of you successfully receive and read this message. I think you will see my email address stated, but I will write it again now. It is pb002a5509@blueyon...
14 Jun 2018
Qué bendición el florecer de la congregación Montfortiana. . . ! ! !
Mis oraciones por cada uno. . . ! ! !
11 Nov 2018
All the best