INDONESIA: New Postulants for the Year 2013
Montfort News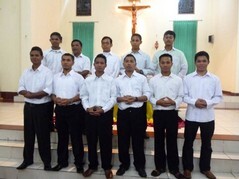 On July 1, 2013, eleven Montfortian postulants arrived at the postulancy-novitiate house of the Montfort Missionaries in Ruteng. They are Epifianus Melkiades Asri, Hyronimus Ario Dominggus, Bonefasius Taho Nuduk, Teguh Adytiaputra Witono, Epifanus Guirik Darson, Priskus Filipi Rambang, Agustinus Asman, Daniel Dagur, Rofinus Aurelius Babo Besu, Fransiskus Fridalin Abner Leonard, and Ignasius Suban Tukan.

Ten of them are candidates for priesthood and one for brotherhood.
They came from the different regions (islands) in Indonesia: Flores, West Kalimantan and Java.
Their arrival was welcomed with the Maggaraian customary ceremony, by offering them a white rooster and palm wine (a typical local beverage). Then on Sunday, July 7, 2013, the community celebrated together the evening prayer to complete this welcome ceremony for them. The liturgy was led by Fr. Stef Seli, SMM.
The next activity that they are going to experience together is the so-called "Bask in Love". It is a sort of a retreat to recognize and experience the love of God in their personal lives.

To our candidates, Welcome! In the future, may you become Montfort Missionaries who are responsive, resilient and responsible.

--------------------