Montfort News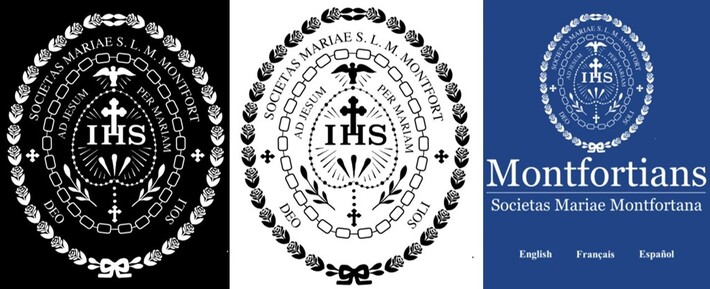 ROME - The Congregation has no particular "coat of arms", but there is a seal, which shows the symbols of its spirituality. Currently it is included in the Home page of the WEBSITE as the Logo of the Congregation.
In the center, the Latin abbreviation IHS of Jesus Savior of Men (Iesus Hominum Salvator) radiating and surmounted by the Cross with the three passion nails (already used by various religious congregations) encircled by a Rosary and surrounded by the inscription AD JESUM PER MARIAM (To Jesus through Mary) and the Dove, symbol of the Holy Spirit.
The whole is surrounded by an oval which seems to be composed of links of a chain (probably the Holy Slavery of Love).
Around it, the denomination of the Congregation: in the upper part SOCIETAS MARIAE S(ANCTI) L(UDOVICI) M(ARIAE) MONTFORT and in the lower part: DEO SOLI (To God Alone) which was the Motto of the Founder before becoming that of the Company of Mary.
The whole is then enclosed in an ornamental oval formed of leaves and roses.
Montfort Communications
---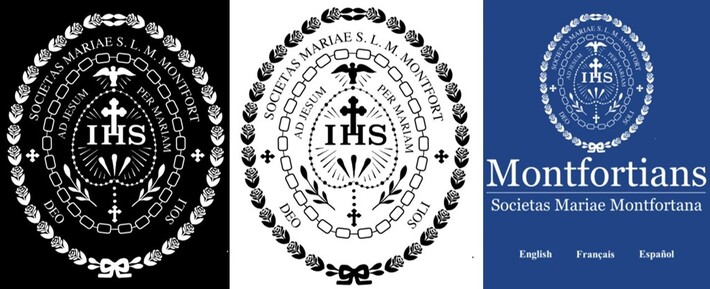 23 May 2023
This is special. Is this "logo" available as a medal that we could wear as well as a "holy card" with St. Louis on one side and this logo on the reverse side?