Malawi: Installation of Fr. Callisto Baluwa as parish priest of Balaka
Montfort News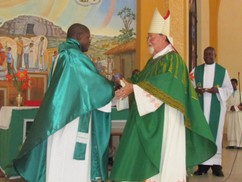 Sunday 27th October was an unforgettable day for Balaka parishioners. They bid farewell to their former priests Frs Luigi Fratus and Domenico Pedullà, and welcomed Fr Callisto Baluwa and Fr. Jacob Otieno as new priests for the parish.
During the Eucharistic celebration presided by Bishop Allessandro Pagani of Mangochi diocese Fr. Baluwa was officially installed as parish priest of Balaka Parish.
Bishop Pagani, spoke about the important mission the parish priest is called to carry out in a parish. He is the proper pastor of the parish and exercises the pastoral care of the community entrusted to him in communion with the Bishop and under his authority. He teaches, sanctifies and rules with the heart of a good shepherd, following the example of Jesus himself who gave his life for his sheep.
Both Fr Luigi and Fr. Callisto asked for the collaboration and the full support of the parishioners.
On the following day, confreres of the Africa Anglophone delegation warmed the Fathers house holding a meeting and offering gifts to the new community.

--------------------