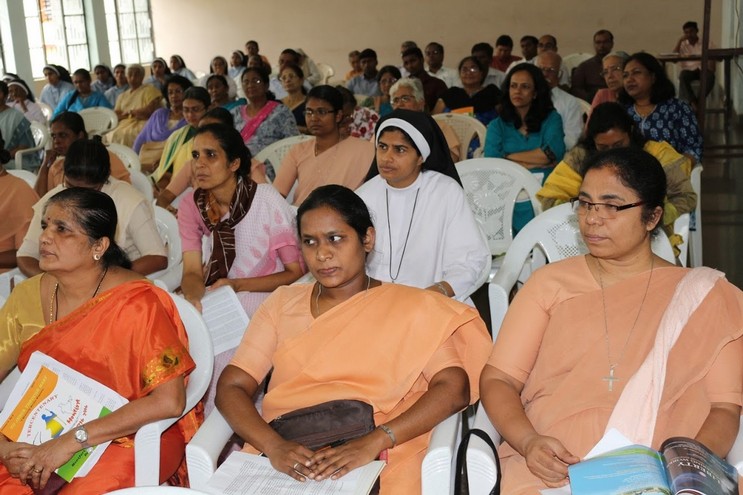 BANGALORE, India – The Marian Centre in the Vice Province of India has initiated to organize a half-day Marian Seminars in the month of September, October and December.
The first seminar was on the topic "Mary in the Scripture." It took place in Maria Bhavan, our Scholasticate House on 24th of September, 2017 in Bangalore. There were a good number of participants turning up positively for this seminar. The message was given by Fr. Michael Sahayaraj, our Provincial as he said, a true understanding of Mary and her role in salvation can come only from a full understanding of scripture. He also quoted St. Louis-Marie de Montfort "Let us bring Mary in to our abode by consecrating ourselves unreservedly to her and to her Son the incarnate Wisdom."
The Marian Centre
The Montfort Marian center in the Indian Vice Province which has the prime motive to promote the spirituality of our founder de Montfort is a Centre to spread the devotion to Mary to all religious and the laity in different perspective. The purpose of this center is for both pastoral and academic reasons. We have been organizing various programs through seminars, courses apart from promoting devotional practices of organizing Marian pilgrimages, publishing Marian Magazines, conducting Marian retreats and parish missions. We thank Fr. Peter Mascarenhas the Director of Marian Centre for his able guidance and for organizing different events.
The Marian Centre in collaboration with DVK (Dharmaram Vidya Kshetram), Pontifical Athenaeum of Philosophy, Theology and Canon Law, has also scheduled to organize 15 days course on Marian Studies in summer 2018. It will also serve a Certificate in Marian Studies at the end of the Summer Course.
-Nashwin smm
------------------------------