Priestly and Diaconal Ordination
Montfort News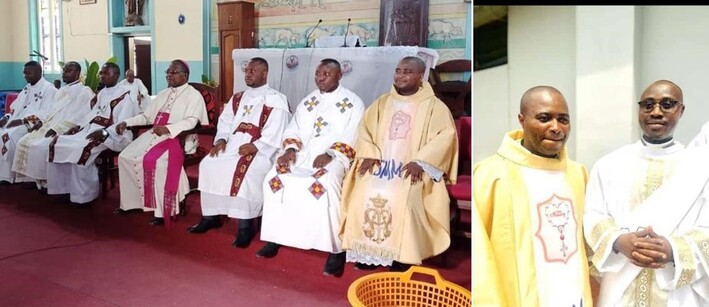 KISANGANI, D.R. Congo - Sunday February 19, 2023 was a day of celebration and joy in the Delegation of Francophone Africa in particular and in the Company of Mary in general. Indeed, two confreres have been elevated to the diaconate and priestly ordinations: Brother Claude DISA MUTUNZI, SMM was ordained deacon and Deacon Charles MUMBERE KIPUTSU, SMM was ordained priest.
The ordinations took place in Kisangani. It all started with the Eucharistic celebration presided over by His Excellency Monsignor Marcel UTEMBI TAPA, Metropolitan Archbishop of Kisangani and President of CENCO. That began at 9:00 a.m. in the Cathedral Church "Our Lady of the Most Holy Rosary" in Kisangani.
In his homily, the Archbishop focused his teaching on the law of Jesus Christ, which asks us to love our enemies. We must not use the law of retaliation which consists in the reciprocity of crime and punishment. He insisted on love of neighbour, true love. He concluded by explaining the roles of servants of God in the Church.
Note that, in the same Eucharistic celebration, two diocesan seminarians were ordained deacons and two diocesan deacons were ordained priests.
We give thanks to God for the gift of new ministers in the Company of Mary and in the Church.
The Editorial Staff
---