Priestly Ordination in Indonesia
Montfort News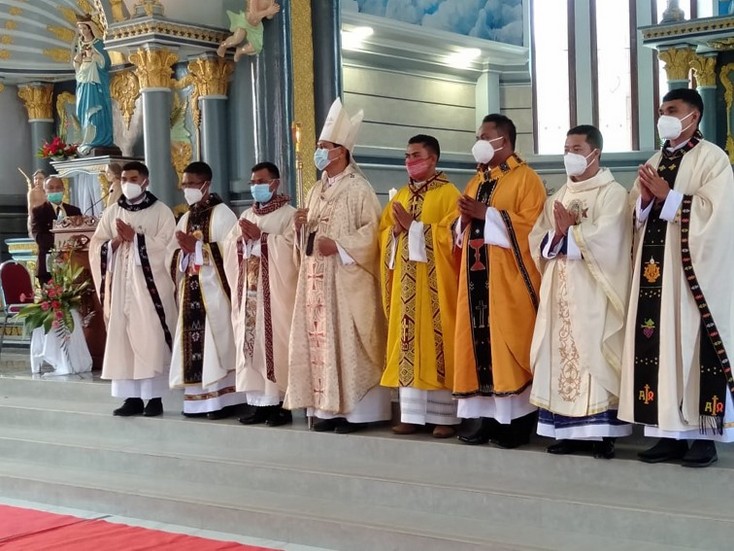 INDONESIA - On the 11th of January 2021, three deacons, namely Petrus Sola Dopo, SMM, Saferinus Njo, SMM and Bronislawa Nasaredin Lawa, SMM were ordained priests through the hands of his excellency, Mgr. Vincentius Sensi Potokota, the Archbishop of Ende. This grace-filled event was held at the Holy Spirit Parish in Mataloko, Archdiocese of Ende, amid high alert of Covid-19 pandemic in which health protocols and directives imposed by the government were strictly observed.
During the celebration, only 25 guests were limited for each deacon and had to undergo medical test for Covid-19. The schedule of this ordination was according to the list of places and dates for priestly ordination issued by the Archdiocese of Ende. In this regard, we are grateful that the Montfort Missionaries were welcomed and included in one of its schedules. Fortunately, one of the newly ordained priests, Fr. Petrus Sola Dopo, hailed from this Archdiocese. Along with our three deacons, two diocesans and two other OCD deacons were also ordained. The theme chosen by these seven deacons for this Liturgical celebration was taken from The Acts of the Apostles 13:33, "You are my son. Today I have begotten you". In his homily, Bishop Sensi called the new priests to continuously nurture their new identity as priests of Christ and root their lives and mission in an intimate relationship with God Himself, just like a son to his father.
A simple meal was served after the Mass for all the attendees. A celebration that gathers many people is, in fact, forbidden by the government. Hence, the newly ordained priests returned to their respective families quietly.
Likewise, on the 13th of January, a thanksgiving Mass was offered in the Novitiate community in Ruteng and was presided by these three newly ordained priests. All Montfortians who are working in Flores island were present as they joined them in prayer and in joyful celebration.
Fr. Antonius Tensi, SMM
---