Renewal and Perpetual Vows
Montfort News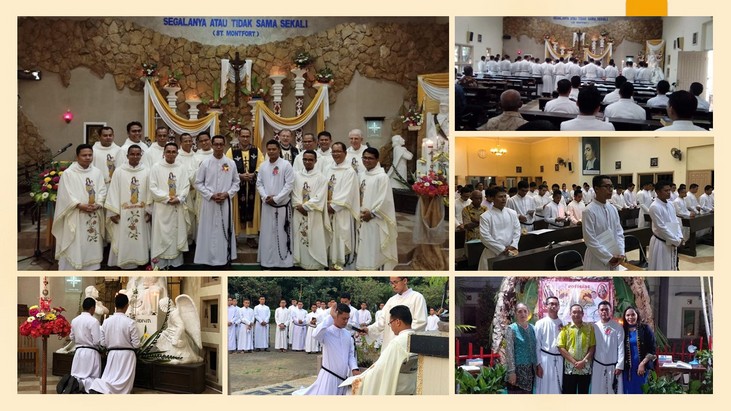 MALANG, Indonesia - As we celebrate the Solemnity of the Assumption of the Blessed Virgin Mary on August 15, 2019, two of our young confreres Bro. Vian, SMM and Bro. Nico, SMM professed their Final Vows in the presence of Superior General Father Luiz Augusto Stefani, SMM at the Montfort Scholasticate in Malang.
The Holy Mass was presided by Fr. Antonius Tensi, SMM, the Provincial Superior of Indonesia, along with Montfortian confreres from different communities who are working in Java Island. Among those present were the families of the two confreres together with some religious from other congregations in Malang Diocese, relatives, benefactors, friends, lay associates as well as lay people. In his homily, Fr. Anton reiterated that Mary is the perfect model in living out the Montfortian consecrated life as referred to the Visitation of Mary to Elisabeth and her Magnificat.
The day before, these two confreres made their Consecration to Jesus through Mary in accordance to our Montfortian tradition. Likewise, during the morning prayer on the same day of their final vows, 33 Scholastics made also their Renewal of Profession.
It is truly a great joy for the Province with this gift of vocation as well as for the courage and perseverance of these young men. Let's continue to pray for them especially to those in the process of formation that they may persevere and always be faithful to their vocation.
Fr. Antonius Tensi, SMM
---