Sign of Unity and of Communion: Archbishop Thomas L. Msusa, SMM Receives the Pallium
Montfort News
[FR]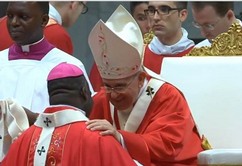 On June 29th 2014, feast of Saints Peter and Paul, Pope Francis installed 24 new archbishops with the pallium, urging them to place their security in the Lord when faced by the fear of their own weakness. Bishop Thomas Luke Msusa, SMM was one of them.
He was at the general house for a few days and before going back to Malawi he accepted to share some thoughs with us.

Your Grace, you are the new Archibishop of Blantyre Diocese...

Yes, I am... When the representative of the Nuncio to Malawi, the then Msgr. Bert van Megen told me, that His Holiness, Pope Francis was asking me to leave Zomba for Blantyre Archdiocese, my first reaction was to decline it!

I felt deep down in my heart my unworthness to serve in Blantyre, such a big Diocese with so many people and challenges; the whole thing was very frightening. I have served almost ten years in Zomba, a diocese with almost half a million catholics within its 15 parishes. Who am I to serve as an Archbishop in such a vast Diocese of almost a million catholics and 40 parishes? Indeed, I was reluctant to accept the appointment.

On the other hand there was in me a feeling of joy and delight. The fact that Pope Francis was able to recognise the simple endeavours I have performed in the diocese of Zomba and he chose me for this new service gave me courage. I want to express how deeply humbled I am at the trust and confidence the Lord has placed in me. I express my gratitude and devotion to Pope Francis who has chosen me as the shepeherd of Blantyre.

How did you experience today's celebration in Saint Peter's Basilica?

I felt so happy and it was the most incredible experience in my whole life. It was a moment of profound joy and communion with the Pope and with the universal Church.

In his homily, Pope Francis has invited us to surrender our life to the Lord. He said, "Jesus never abandons us, for he cannot deny himself. He is the source of our confidence and our peace which enables us to serve others in charity." These words give me strength. I see them as an invitation to be closer to Jesus and closer to the people. This is the mission Pope Francis gave me through the humble, yet meaningful gesture of imposing the Pallium on my shoulders: I am called to be a good shepherd, like Jesus. I pray that I should learn to be more patient, gentle, loving and merciful.

As an Archbishop, I embark on a new chapter in my life of discipleship and service to the Lord with joy, humility, and the eagerness to depend on God alone...in serving the needs of the priests, consecrated men and women and lay faithful of Blantyre Archdiocese.


Any words to the Montfort Missionaries?

First of all I want also to thank the Montfort Missionaries for their constant support and encouragement and for the solid formation I have received from the Congregation. I feel that this is also an honor for the Congregation for the active role it plays in the Church and in her formation programmes.

I want to thank very much those of you who were present at Saint Peter's Basilica on the occassion of this celebration. It meant a lot to me. I also thank Fr Santino, the Superior General and all the community members at the general house in Rome for their kindness and hospitality.

Please, pray for me, that I should be able to fulfill my ministry as Archbishop and successor of the apostles with humility and kindness, always filled with the joy of the Gospel.



+ Thomas Msusa, SMM
Archbishop of Blantyre



----------------------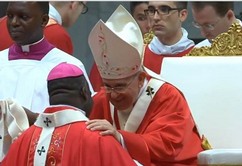 01 Jul 2014
God Alone Your Grace. "That they may be one" still flourishing....All through, with, in, and for Jesus Incarnate Wisdom through the Blessed Virgin Mary! United in Prayer...