TOTUS TUUS JOURNEY launched in Dalaguete Cebu
Montfort News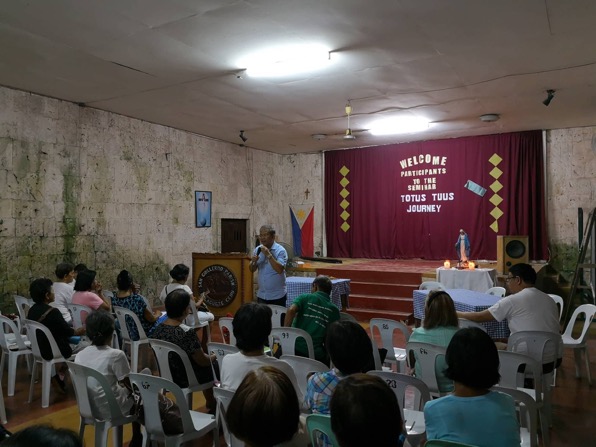 DALAGUETE, CEBU, Philippines - The launching for the Totus Tuus Journey (Preparation for Total Consecration) was held in San Guillermo Parish in Dalaguete, South of Cebu Province on 23rd August, 2018. It started with the celebration of the Holy Eucharist at 6 o'clock in the evening presided by Rev. Fr. Richard J. Magararu, SMM, Delegation Superior of the Montfort Missionaries in the Philippines with concelebrants Rev. Fr. Sherwin Nunez, SMM, Superior of SMM Cebu Mission Team and Rev. Fr. Federick B. Yumang, SMM, National Director of the Association of Mary Queen of All Hearts (AMQAH).
In his homily Fr. Richard related the King's invitation to the wedding banquet of his Son in the Gospel to that of God's continuous call for renewal to every Christians which embodies the very objective of the Preparation for Total Consecration according to St. Louis-Marie de Montfort. Our consecration to Jesus through Mary will help us to be found worthy of the dignity of our true identity as children of God when we finally join the heavenly banquet when God will be all in all.
After the Mass, the participants were ushered in by Bro. Rey Silverio, SMM together with the Associates of the Montfort Missionaries-Cebu (AMM) to the parish session hall for the registration. The 96 participants are mostly members of the San Guillermo Parish mandated organizations and parishioners from San Miguel Arcanghel Parish in Argao, Cebu. After everybody was settled, the orientation and the introduction was given by the missionaries. The participants committed themselves to meet every Thursday, 6 o'clock in the evening for the TTJ sessions. Before going home, everybody shared the sumptuous meal prepared by the parish through the generosity of the Parish Priest, Rev. Fr. Aloysius Alojipan and the AMM who are members of the parish.
-Fr. Federick Yumang, SMM
National Director, AMQAH
--------------------