Celebration of the Tercentenary in Denmark
Montfort News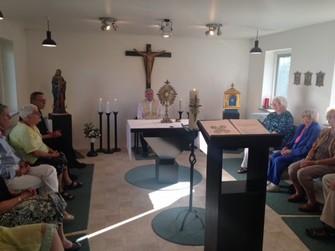 SORÖ, Denmark - On the first Monday of the month, the International Day of Prayer (Montfortain aujourd'hui 130, 33-34), the members of the Montfortian association "Mary, Queen of All Hearts" which is composed of approximately 30 persons living in Denmark hold their monthly meeting. Not all of the members can attend regularly the monthly meeting because the venue is very far from their residences. For some it's nearly a hundred kilometers, not to mention the member from the Faroe Islands.
In 'Maison Montfort' in Sorö, residence of the Montfort-Community, the meetings start at 5 PM in the Chapel. Holy Mass is celebrated followed by an hour of prayer: Evening Prayer, the Prayer for Missionaries by Montfort (in short form) and the Rosary in the intention of the Day.
After the Mass they share a meal together with the beautiful weather outside.
As preparation for the Tercentenary of Father de Montfort's heavenly birth, they begun on the first Monday of June a series of reflections over the different episodes in Montfort's life. These reflections replace the homily during the Holy Mass.
-Fr. Stephen Holm SMMass
-------------------------