Opening of the Holy Door at St-Laurent-sur-Sèvre
Montfort News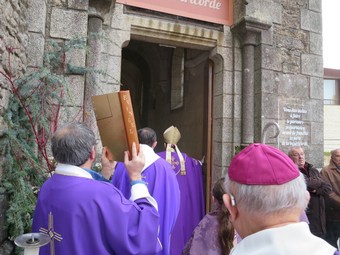 [
FR
]
Sunday, 20 December, Monsignor Alain Castet, bishop of the diocese of Luçon, presided the official opening of the Holy Door at the basilica, thus inaugurating the Year of Mercy in the diocese. A large crowd participated in the procession which started at the 'cours du bûcher ' a large garden near the « Lieux mémoires » of the Daughters of Wisdom. A "preparatory path" has been created in that garden, made of 7 sign-boards bearing biblical quotes on mercy, and of the "Salve Regina" near the statue of Mary.
Once the crowd had crossed the Holy Door, mass followed. At the prayers of the faithful, boy scouts brought the 'light of Bethlehem' at the altar.
Afterwards, the International community offered lunch to guests from the three congregations and from the local clergy.
Another "path" is offered to pilgrims inside the basilica. It invites them to discover five sources of mercy, and then to stop at the tomb of three witnesses of mercy: Montfort, Marie-Louise, and the
Marquis de Magnanne.
-P. Georges Madore, SMM
-----------------------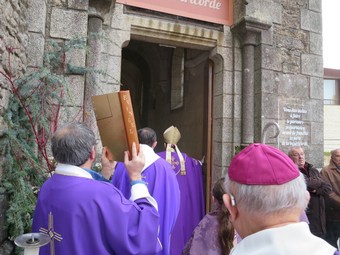 Alejandro Chuquimbalqui SMM
21 Dec 2015
Les desamos feliz navidady benturoso año nuevo 2016, desde la comunuidad de Huaycá-Perú. P.Alejandro.