BRAZIL: Perpetual Profession of Guilherme and Alexandre
Montfort News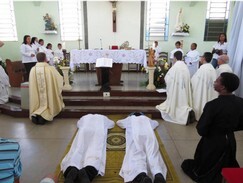 [FR] [ES] [PT]

"Be perfect, just as your heavenly Father is perfect…"


Today, at the 10 AM Sunday liturgy in the Montfortian parish of Contagem, Bom Jesus do Amparo, we celebrated the perpetual profession of two young confreres from Brazil. Brothers Guilherme Brandao Ferreira and Alexandre Alves de Azevedo solemnly pronounced their final vows as members of the Company of Mary before Father Jorge Enrique Gonzalez Vasquez, Vicar General and representing the Superior General, and Father Luiz Augusto Stefani, Delegation Superior of Peru-Brazil. They were joined in the celebration by the people of this parish in the Archdiocese of Belo Horizonte, a number of the confreres, our Brothers of St. Gabriel and lay Montfortians from Joao Monlevade and, most especially, by their families.
The people of the parish really made an extraordinary effort to prepare the celebration and we owe a deep debt of gratitude to their two Montfortian priests who helped in all the details, Fathers Luis Pereira and Mauri Sebastiao Rodrigues. With so much warmth and love, it was truly a family celebration.
But we give thanks to God for the vocations of our two confreres, Alexandre and Guilherme. May Our Lady of Aparecida, patroness of Brazil, protect and guide them along the path of faithfulness and Montfortian discipleship.

Father Louis Augusto Stefani, SMM
Delegation Superior of Peru-Brazil
23 February 2014





---------------------