Entrance Rite to the Collegians Community
Montfort News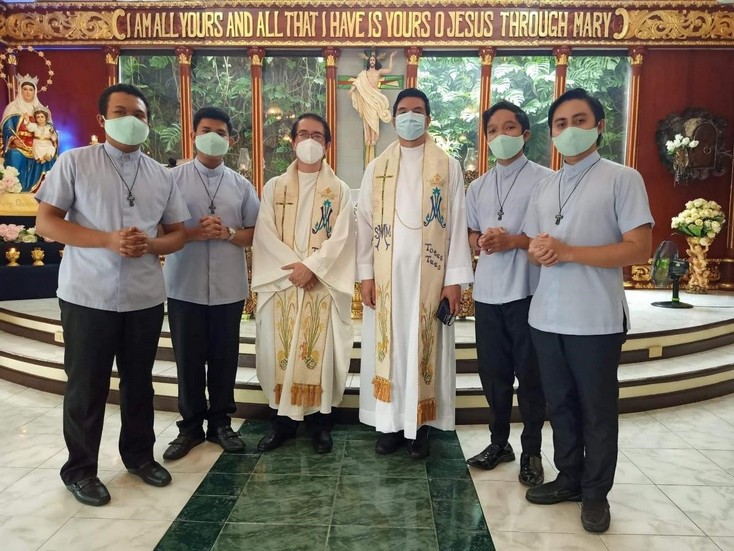 QUEZON CITY, Philippines - On August 15, 2020, the Solemnity of the Assumption of Our Lady, the Montfort Missionaries-Philippines welcomes four aspirants to the Collegians Community. They will be taking up Philosophy while discerning to become Religious Montfortians. They are Jessie James C. Datulayta (incoming 3rd year), Ivan Benedict P. Dadula and Edward Roben V. Cañeba (incoming 2nd year) and Stephen Berdos (incoming 1st year). The simple celebration was held at the Mary Queen of All Hearts Chapel of the formation house and Montfort Center of Spirituality in Scout Madriñan St., South Triangle, Quezon City. The Holy Eucharist started at 8:00 in the morning and was presided by Rev. Fr. Norwyn V. Baydo, SMM, the Delegation Superior, together with Rev. Fr. Federick B. Yumang, SMM, the Collegians Formator, Rev. Fr. Gener C. Pito, SMM, the Vocation Director and Delegation Bursar, and Rev. Fr. Benjie A. Notarte, SMM, the Scholastics Formator.
The event was held exclusively, with no family and friends present at the Entrance Rite due to the COVID-19 pandemic. But despite of that, the aspirants were joyful and excited to start the Academic Year 2020-2021.
During the homily, Fr. Norwyn stressed out the importance of cultivating and nurturing the gift of vocation which God entrusted to everyone. He also pointed out the importance of developing the inner self rather than the physical aspect because through this, God will manifest Himself.
After the homily, the aspirants made an oath to be obedient and be committed to their promise which was written in the Vision, Mission and Goal (VMG) of the community. After that, they affixed their signatures as a sign of their commitment.
The Eucharistic Assembly ended around 9:30 in the morning and a simple yet sumptuous meal was served to thank the Blessed Virgin Mary for the gift of vocation and to celebrate the Solemn Feast of Her Assumption.
Jessie James Datulayta
SMM Collegian
---