The Chaplaincy of St. Louis-Marie de Montfort Celebrates Anniversary with Flood Affected Families
Montfort News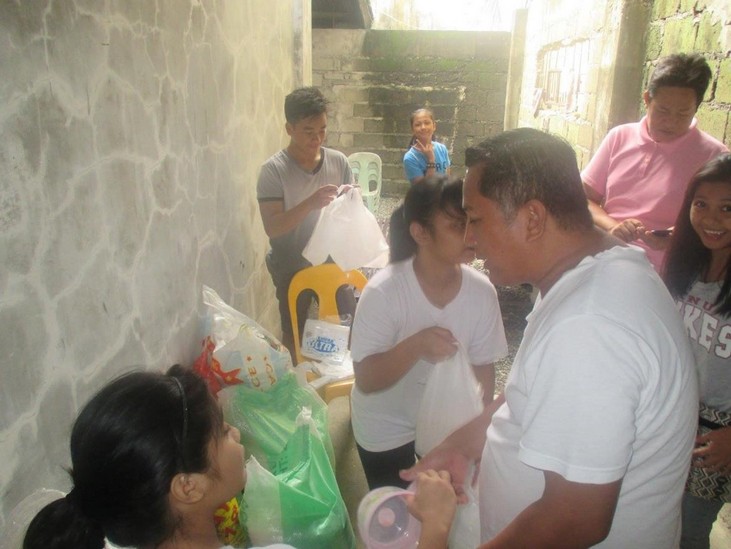 DAGUPAN CITY, Philippines - On August 21, 2018, four days after their Fifth Anniversary celebration, the chaplaincy of St. Louis-Marie de Montfort had a gift-giving gesture to the people affected by the continuous monsoon heavy rains in the different Barangays namely: Tambac, Bolosan, Mangin, Mamalingling, A.B. Fernadez, Pantal and Salisay of Dagupan City,
Pangasinan. The activity was done to thank God for the many blessings and guidance.
The Parish Pastoral Council with the approval of the parish priest, Fr. Santiago "Ting" Casing, SMM decided not to have a grand celebration of the anniversary. Instead, the money allotted for the food was added to the contribution of the people under the Chaplaincy of St. Louis-Marie de Montfort and the relief food items donated by the Caritas Lingayen-Dagupan.
There were 352 families who received the relief items which included rice, noodles, coffee, etc. The different ministries and organizations helped in packing and distributing the relief goods.
The unity among the faithful of St. Louis-Marie de Montfort Chaplaincy manifested again the love of Jesus which has been shared to all, especially to the little ones.
According to the latest report by the National Disaster Risk Reduction and Management Council (NDRRMC) in Philippines, more than 700,000 people have been affected by the massive flooding caused by the southwest monsoon.
-Bro. Lester C. Bonete, SMM
--------------------