Montfort News
[FR] [ES]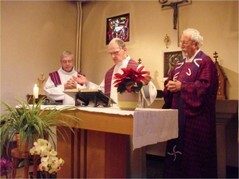 Three confreres from Leuven celebrated the golden jubilee of their priestly ordination on Monday, 10th March, in the community of Brabant: delegation superior Frans Fabry, Jef Scheepens and Jos Verbelen. Although Fr. Frans was ordained on 9 February 1964 in Montfort sur Meu, France, and Frs. Jef and Jos on 8 March 1964 in Oirschot, Netherlands, they decided to celebrate this special day together. First there was a Eucharistic celebration in the chapel. In a warm and emotional sermon Jef Scheepens shared his views on vocation and his life as a missionary in Malawi with the confreres who were nearly all present. A drink, flowers, wine and other gifts were offered to them and of course also a fine meal at a large table. Lots of memories were shared and everyone was happy and in great mood. We would like to thank these confreres for all those years of devotion to their ideals, for their hard work in different religious fields and for their love for all those people whom they met in their life, the congregation, Montfort and Mary. May God bless them and may they continue to be good priests for many years to come, remain in good health and always with joy in their hearts.

--------------------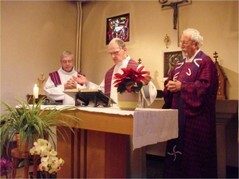 19 Mar 2014
Congrants Jef and confreres. We miss you here in Malawi especially Nantipwiri Community.