Great Britain & Ireland: Golden Jubilee of Priesthood - Father Paul Allerton
Montfort News
[FR] [ES]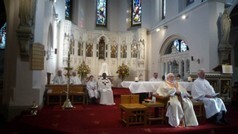 On 22 February 2014, Father Paul Allerton, of the Vice-Province of Gt. Britain & Ireland, celebrated the Golden Jubilee of his Ordination to the Priesthood, with a Mass at the church in Crosby, Liverpool where he was baptised, made his first confession and Holy Communion and was confirmed. He was joined in celebrating this Jubilee by many of the confreres of the Vice-Province, together with other Montfort Missionaries from around the world, among them: Fr. Joseph Joseph from India, Father John Mary Ahimbisibwe from Uganda, and Father Blaise Jailosi from Malawi, all of whom are working or studying in our Vice-Province at present. Also present were quite a few of Father Paul's own family: brother Vin, sister Anne, and nearly all of Vin's family, children and grandchildren; a number of cousins and friends, and some of the local priests and religious. Altogether a very joyful celebration! A summary of Father Paul's life appeared on the celebratory leaflet, and is included below.
Father Paul was born in Park House, Waterloo, on 2 March 1940, and was baptised here in Ss Peter & Paul's on 10th March. It was also here in Ss Peter & Paul's that he made his first Confession and Communion and received the sacrament of Confirmation. His primary schooling was at Ss Peter & Paul's and St Mary's Preparatory school (at that time in Everest Road). He began his secondary schooling at St Mary's College, before going to the Junior Seminary of the Company of Mary, Montfort College, Romsey, Hampshire.
Having entered the Novitiate of the Company of Mary in Ashurst, Southampton, he made his first religious vows there on 8th September 1958. His studies in philosophy and theology were done at St Mary's Scholasticate, Church Stretton, Shropshire, where he made his perpetual profession in the Company of Mary on 31st August 1963, and was ordained priest on 22nd February 1964.
His first appointment after ordination was to study Mathematics in Romsey and then to take a B.Sc. degree in Maths at Southampton University. After a year's post-graduate study of Education at Liverpool University, he was sent to Montfort College, Romsey to teach Mathematics and New Testament Greek, which he did for seven years. He was then sent in 1976 to Woodridge in Queensland, Australia, to help in St Paul's parish there. He returned to England in 1977, to become the superior of the Scholasticate of the Company of Mary in Highgate, London. At the end of his 3-year term there, he was asked by the Superior General to return to Australia to be the superior of an enlarged community, and to try to expand the range of ministries of the missionaries there. He spent the next nine years in Australia, during which time he gave many retreats (both preached and individually guided) and a number of parish missions. He also worked for many years as a team-priest in Marriage Encounter. When the Company of Mary had to leave Australia in 1989 (because of a lack of vocations there), Father Paul returned to London, but was immediately asked to be the Master of Novices in a new International Novitiate project in Pontchâteau, France (1990-1992). On returning to London in 1992, he was appointed Provincial Bursar of the Province of Gt. Britain & Ireland, a post he held until 1997. After a Sabbatical year, during which he took a short course in Mariology in Rome and a course in Ignatian spirituality at St Beuno's, North Wales, he was appointed to co-direct the Sandymount House of Prayer in Liverpool. Then in 1999 he was appointed by the Superior General to be the General Secretary of the Company of Mary in Rome, a post he held until 2002.
After returning from Rome, Father Paul was appointed to Barrhead, Scotland, to work in the Retreat House there until its closure in 2006. From there he went to St. Joseph's, Ashurst. There he was once again appointed Provincial Bursar on the death of Fr. Philip Wilson, and also Mission Procurator, with special responsibility for making appeals for our Missions in Africa. He was moved to Liverpool (back to his home-town) in 2009, and continued as Bursar until 2012, when worsening arthritis suggested the need for semi-retirement. He continues to take a great interest in Montfortian Spirituality, and keeps busy with translating and writing. He thanks all his confreres, friends and relations for their love and support over more than 50 years.



--------------------