Montfortian Lay Associates at Kiwamirembe Marian Shrine
Montfort News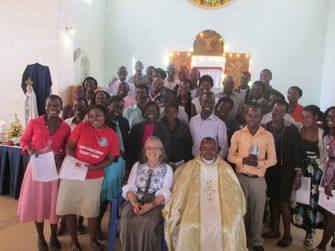 KAMPALA, Uganda - "All that is mine is yours and all that is yours is mine". These words quoted from True Devotion 179, reechoed in the hearts and on the mouths of the lay associates who consecrated themselves to Jesus through Mary on July 16, 2015, at Kiwamirembe Marian Shrine of Kampala Archdiocese, Uganda.
Montfort's teaching has recently attracted many lay Christians in Uganda as they passionately consecrate themselves to Jesus Christ, Incarnate Wisdom, through the hands of Mary. Within the diocese of Kampala this vibrant devotion has been steered by a Portuguese Lady, Mrs. Paula Duncan, an active Montfortian Lay Associate, who has come to work in Uganda. Since her arrival, more than 200 faithful of Kampala Archdiocese have embraced Montfortian Spirituality.
Present at the function was Bro. Ronald K. Musinguzi, SMM representing Mbarara Montfort Community. Those who consecrated themselves include people of every status and many university students from Kampala campus and colleges. In the past, Fr David Niwagaba, SMM also officiated other consecrations of lay associates in Kampala.
This movement is very active in Kampala Archdiocese, where Mrs Paula resides. Arrangements are under way to join efforts with the Mbarara Montfortian Community and take this initiative to other places as well.
The Montfortian confreres in Uganda feel blessed with the presence of Paula as they unite with her in their endeavors of spreading the spirituality of St. Louis-Marie Grignion de Montfort.
-Br. Ronald K. Musinguzi, SMM
---------------------------