A Send Off of Three Pre-Novices
Montfort News
[FR]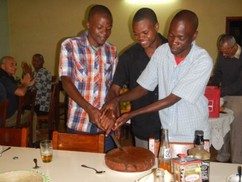 BALAKA, Malawi - On Sunday , 13th July 2014, three novice-to-be namely Bernard Maganga, Innocent Mwanoka and Damiano Abraham from Africa Anglophone delegation bid farewell to confreres in Balaka. The send off celebration took place at Montfort Media. The usual Sunday supper (which Confreres from Kankao parish, Balaka parish, Montfort - ICI community, and religious from Inter-Congregational Institute - ICI gather together) was spiced up with a delicious cake, ice cream and local fruits.

Speaking on behalf of his brothers, Bernard Maganga said he was grateful for the send off and asked for more prayers: "I thank you all for this celebration and I ask you to accompany us and to pray for us and for the good outcome of this journey." Among those present were Fr Luigi Gritti, Assistant General, Rt Rev. Alessandro Pagani, Emeritus Bishop of Mangochi, Fr Gamba, superior of the community and a number of Montfort Missionaries, Comboni Missionaries, volunteers and some friends of St. Egidio community.
The three pre-novices left from Chileka airport (Malawi) on 14th July 2014, heading to Philippines via South Africa and Hong Kong.

Bernard Maganga hails from Nzama parish (a historical parish for Montfortians in Malawi since 1901), Dedza diocese. He was born at Mulanje hospital on 2 February, 1992. He is the first born of four children of which three are girls.

Innocent Ignatius Mwanoka was born on 2 July, 1992 in Mangulu village, Machinga district, Mangochi diocese. He is the second born of seven children.

Damiano Abraham hails from Thondwe parish, Zomba diocese. He was born on 30th December, 1990 in Mulanje district, Blantyre archdiocese. He is the fifth born of six children.

Let us pray for them for a peaceful and safe journey.


---------------------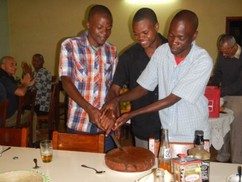 15 Jul 2014
CONGRATULATIONS!!!!