Bros. Francois Ancheta, SMM, Ronald Baruela, SMM and Armel Collantes, SMM Receive the Ministry of Lector
Montfort News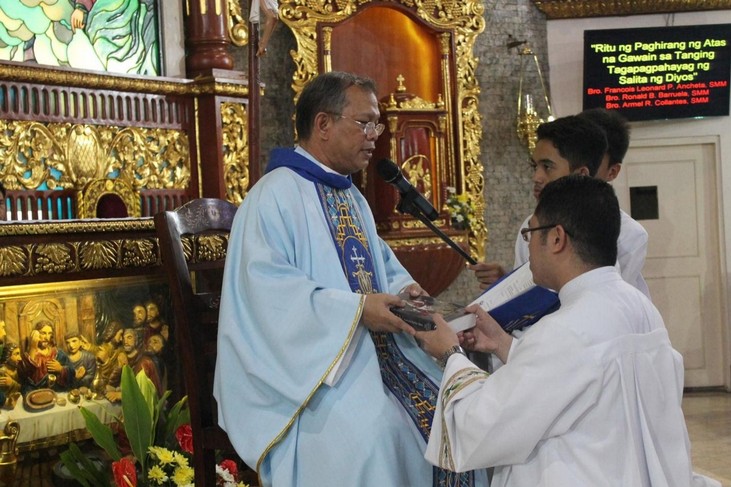 MAKATI CITY, Philippines - On August 15, 2018, the Montfortian family celebrated the Solemnity of the Assumption of the Blessed Virgin Mary and the institution to the Ministry of Lector of Bros. Francois Leonard P. Ancheta, SMM, Ronald B. Baruela, SMM and Armel R. Collantes, SMM. It was held at Sta. Teresita, Parish, West Rembo, Makati City at 6:00 in the evening.
The Eucharistic Celebration was presided by Rev. Fr. Richard J. Magararu, SMM, the Delegation Superior, with some Montfortian priests as concelebrants. It was witnessed by the scholastics, novices, collegians and the parishioners.
The celebration highlighted the significance of the Solemnity of the Assumption of Mary for all Christians on the journey towards holiness and becoming a true disciples of Christ. Fr. Richard explained to everyone that the Ministry of Lector, distinct from the lay lectorate which the three scholastics received, is the first of the several steps before ordination to priesthood. He added that the parishioners are blessed to witness the institution of the Ministry of Lector for the first time since it is normally a private celebration of the Montfortian community.
Before the final blessing, Fr. Norwyn V. Baydo, SMM, the formator of the Scholastics, thanked everyone for their presence and support given to the Delegation and to the three new lectors as they start their new ministry in living out the Word of God and proclaim to the people. After the Holy Mass, a simple dinner was served and shared at the convent of the parish.
It was indeed a simple yet joyful celebration.
-Bro. Samuel M. Gonzales, SMM
Scholastic
--------------------