COLOMBIA: The Beginning of the Latin-American and the Caribbean Novitiate - 2013-2014
Montfort News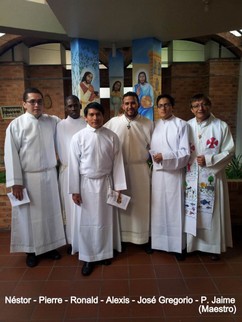 This past Sunday, October 6, 2013, the Colombian Province welcomed the new group of novices at the chapel of the International Novitiate for Latin America in Paipa, Colombia. These five young men were welcomed with joy at the beginning of their novitiate for 2013-2014. They represent the SMM entities of Haiti, Peru and Colombia.

Please pray for our brothers: Pierre Wisler Baugé, Haiti; Ronald Alfredo Flores Ruiz and José Gregorio Cruz Garcia, Peru; Néstor Fabian Araque Cardenas and Alexis Oswaldo Nieto Aranguren, Colombia.

May the Lord help them grow more deeply in their vocation to religious life as Montfort Missionaries during each step of the journey during this graced time. And may Our Lady of the Rosary be their constant companion.

--------------------