Consecration to Jesus through Mary: Lay Associates of Indonesia
Montfort News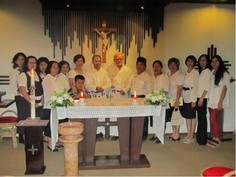 BANDUNG, Indonesia- On September 26, 2014, there were 11 lay associates who made their consecration to Jesus through the hands of our Mother. The celebration was held in the Provincial House in Bandung, West Java. Before making their consecration, they journeyed together, accompanied by Fr. Rofinus Jewarut, SMM to prepare themselves in the light of "Totus Tuus Journey" proposed by our Founder, St. Louis Marie de Montfort for few months.

The celebration was solemn. The choir group of the blind students made the celebration more meaningful and beautiful. Their beautiful voices helped those who were present to experience God's presence. Fathers Edy Suhartono SMM, Lorens Ola, SMM and the lay associates from the previous batches attended this celebration to pray and to support their commitment.

In his homily, Fr. Nico Scheneiders, SMM encouraged the lay associates, particularly the newly consecrated, to live a life fully, "to pray and also to do the work of charity in their concrete life." Using a metaphor, Fr. Nico said that the fruit of the consecration to Jesus through Mary is to make us like a teak wood which is strong, solid and able to make our Christian life well-grounded and meaningful. On behalf of the newly consecrated persons, Mr. Hendrik shared that the call to holiness is not easy to put into practice, but they believe in the presence of the Holy Spirit who always journeys and accompanies them so that they are always faithful to say: "Yes we can".

The celebration was concluded with the fraternal meal and sharing.

----------------------