David's Priestly Ordination
Montfort News
[ES]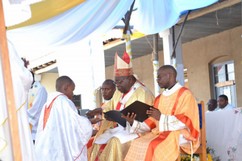 MBARARA, Uganda- On July 19th 2014, there was a lot of jubilation at Mbarara Arch-diocese Cathedral of Uganda when a number of young men received their priestly and diaconate ordinations. This ceremonial event saw one Montfortian, David Niwagaba,smm being ordained as a priest. Fr. David was ordained along with 6 diocesan priests and 2 missionaries of Africa. The function attracted people from all corners of Uganda and beyond. Also present at the function were Fr. Louis Nkukumila, smm, the superior Delegate for Africa- Anglophone, Fr. Paul Mashonga, smm, Fr. Charlie Beirne, smm, Fr. Francis Muhangi, smm, and Scholastics: Nobert, Christopher, Ronald, Joseph, Ludovik and Benedict. In his homily, the ordinary Archbishop Rt. Rev. Paul Bakyenga emphasized the need of unity among the priests; "You find priests staying together in the same house but they cannot eat together… they can't even concelebrate; they only concelebrate maybe when they are visited by the bishop…" He thus challenged the newly ordained priests to be exemplary. On the following day, we headed for Fr. David's home in a neighboring district of Bushenyi where he held a grand First Mass and party. His home was so crowded of worshipers that one woman was heard commenting that "maybe we are at Vatican!"

David Niwagaba was born on 27th March 1983 in Nyakatunga village, Kyamwiru catholic parish, Rubirizi district-Uganda. He is the 4th born in a family of 11 children, 7 boys and 4 girls who were born in the family of Mr. and Mrs. Venansio Tibihika. He will do his apostolate in Uganda.

We wish Fr. David God's support in his ministry.

-Ronald K. Musinguzi –Nairobi Scholasticate





---------------------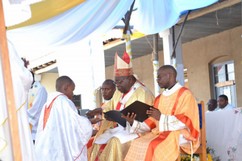 04 Sep 2014
Congratulations David. We are proud of you!