Culmination of the Preparation for Perpetual Profession of Bro. Federick Yumang, SMM and Bro. Gener Pito, SMM
Montfort News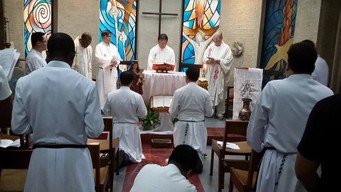 QUEZON CITY, Philippines - After seriously giving themselves to the 3-months Preparation for Perpetual Profession program, our two brothers, Bro. Federick B. Yumang, SMM and Bro. Gener C. Pito, SMM are now getting ready for perpetual profession of vows. As its culmination activity, our two brothers have once again consecrated themselves totally to Jesus through the hands of Mary, our Blessed Mother. It was held on September 22, 2015 at the Chapel of the Delegation House. The Scholastics, Novices and the Collegians gave their all-out support as they took part in the readings and hymns. The liturgy was presided by Rev. Fr. Paul Arnel Lucero, SMM, Delegation Superior, with Rev. Fr. Mario Belotti, SMM as homilist, Rev. Fr. Rene Bustillo, SMM, Rev. Fr. Sherwin Nuñez, SMM and Rev. Fr. Benjie Notarte, SMM. In his homily, Fr. Mario, gave an emphasis on Love that has to be deeply rooted in their lives as they commit themselves totally to Jesus through Mary, - A love that transcends and ignites us to be steadfast in our religious Montfortian life.
After the grace-filled Liturgy of Consecration, the whole community had a simple yet joyful dinner. Bro. Federick and Bro. Gener gave their word of thanks to the facilitators of their PPP Program. It ended with a community singing of "I Thank My God", as we also pray for the safe travel of Fr. Mario and Fr. Paul Arnel to Italy in the next few days.
It was truly a joyful gathering as one Montfortian Family that is worth to be treasured, thanking the Lord for the gift of vocation to religious life.
-Bro. Armel R. Collantes, SMM
-------------------------