Montfortian Mission at St. Louis-Marie Grignion de Montfort Parish, Dagupan City
Montfort News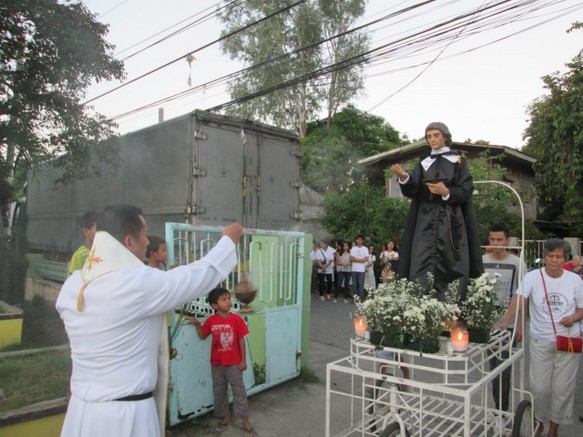 DAGUPAN, Philippines - On July 2, 2016, the parish of St. Louis-Marie Grignion de Montfort, Dagupan City has officially opened its First Montfortian Mission. The Parish has chosen Barangay Mangin as its Pilot Mission Area. The celebration started with a Dawn Procession at 4:00 AM from the Chapel of Bolosan to the venue of the Holy Mass at the covered court of Mangin-Tebeng Elementary School. Hundreds of parishioners coming from the different barangays have participated in the Opening of the Mission. The Parish Mission Cross, the Image of Our Lady of the Way and St. Louis-Marie de Montfort were the highlight for procession as these images were received with open hearts by the people of Barangay Mangin, as a symbol of their acceptance and participation in God's mission. The Holy Eucharist started after the procession at 6:00 AM. It was presided by Rev. Fr. Richard J. Magararu, SMM, Philippine Delegation Superior with concelebrants, Rev. Fr. Federick B. Yumang, SMM, the Delegation Bursar; Rev. Fr. Santiago E. Casing, SMM, parish priest and Rev. Fr. Arnel V. Pagaduan, SMM, parish vicar.
The active participation and positive response of the people in the mission area were very inspiring and motivating for all of us Montfortians. It truly shows how the presence of the Montfortians has greatly touched the hearts of many people in Dagupan.
Prior to the opening of the Montfortian Mission, the people were being prepared through the Basic Ecclesial Community (BEC) Facilitators' Training and Workshop held on June 5-10, 2016 and the Pre-Mission Activities such as House Visitations and Blessings and Triduum Masses in Zones A, B, and C of Barangay Mangin. The members of the Scholasticate Community under the direction of Rev. Fr. Norwyn V. Baydo, SMM, the Master of Scholastics have given their total self in giving the BEC seminars for Formators, in coordination with the SMM Dagupan Community headed by Rev. Fr. Santiago E. Casing, SMM, the parish priest. There are more mission activities to be done in the coming days especially the building of the Basic Ecclesial Communities.
Glory to Jesus in Mary! Glory to God Alone!
-Bro. Armel R. Collantes, SMM
------------------------