First Profession of 19 Novices
Montfort News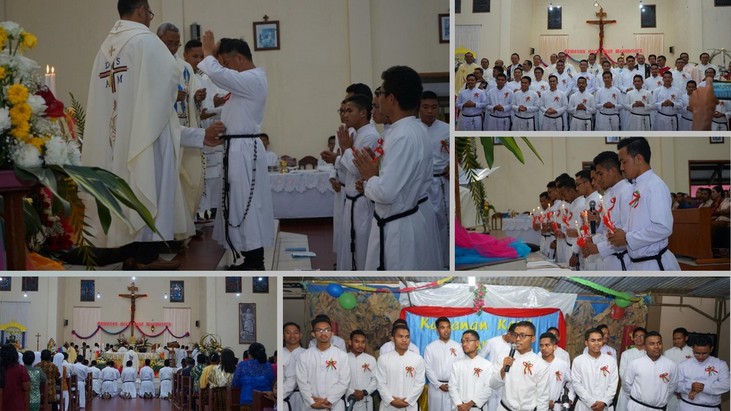 FLORES, Indonesia – On May 31, 2019 during the Feast of the Visitation of Mary to Elisabeth, 19 novices had their First Profession to the SMM Province of Indonesia at the chapel of the novitiate house in Ruteng, Flores.
Among the novices, 17 decided to continue for priesthood while the other 2 opted for brotherhood. These young confreres underwent Totus Tuus Journey, a 33-day formation with the formators in the novitiate and it was concluded with a one-week retreat animated by Fr. Antonius Tensi, SMM, the Provincial Superior of Indonesia. A day before the profession, they had their total consecration which was done privately.
The acceptance of their vows was done during the celebration of the Holy Eucharist which was presided over by Fr. Anton and was attended by all confreres working in the Diocese of Ruteng, other religious congregations, families and relatives of the novices. Learning from the example of the visitation of Mary to Elisabeth, Fr. Anton emphasized in his homily that embracing religious life means embracing a contemplative or prayer life, servanthood or active life, and sacrificial life. This celebration was ended with a sumptuous dinner for all the attendees.
It was truly a joy and consolation for the whole entity as God continues to bless the province with more vocations. Let us all continue to pray for these young men that they may persevere and become faithful to their vows as Montfortians.
Fr. Antonius Tensi, SMM
--------------------