INDONESIA: Temporary Vows, Final Vows and Priesthood Ordination 2013
Montfort News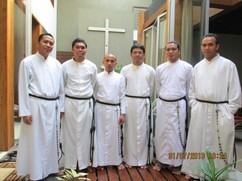 This year there are a number of confreres from the Indonesian province of the Montfort Missionaries who made their temporary vows, final vows and who were ordained into Priesthood.
On May 31, 2013, there were seven novices in the Montfortian Novitiate at Langgo, Manggarai, Flores, who made their first vows before Fr. Kasimirus Jumat, the Indonesian Provincial Superior. Thery are: Yosef Gregorius Peda, Adrianus Lami, Andrianus, Hironimus Edison, Adolfus Santosa Arnando, Desiderio Julio Sudirman, dan Rikardus Keraf Basukur.
Before making the profession, they underwent the Totus Tuus Journey for 30 days. The journey was ended by an eight days retreat. The celebration of the profession was attended by their families, their confreres and the faithful.

At the Provincial House in Bandung, West Java, there were six other confreres who prepared themselves for the final vows. The preparation was from 1st to 31st of July 2013. Those confreres were Charolus Albertus Leta Natal, Apolinaris Dari Bani, Lukas Dirman, Frumensius Andi, Blasius Lion, and Robertus Ludok Kelore.
The themes of the sessions for the preparation of the final vows were 1) Vita Consecrata, 2) Montfortian of Today, 3) Totus Tuus Journey, 4) Documents of the General Chapters, 5) Psycho-social, Psycho-sexual and Psycho-spiritual Life, and 6) Living together as brothers.
The animators were Fr. Goris Pasi, SMM, Fr. Nico Schneiders, SMM, Fr. Herman Y. Nuwa Nupa, SMM, Fr. Yosep Jehara, SMM, Mrs. Lidwina Widayati, Psi and Mr. Hendra.
The series of sessions was concluded with an eight days retreat (1-9 August 2013) at Roncalli Institute - Salatiga, Central Java.
These six confreres will make their final vows on September 8, 2013 and will be ordained deacons by Mgr. Yohanes Pujasumarta, Pr, bishop of the Archdiocese of Semarang on September 9, 2013. All will take place at Montfort Seminary – House of Wisdom, in Malang, East Java.

Also, there were five confreres from the Indonesian Province who were ordained priests. They are Lorensius Ola Ruing, SMM, Fransiskus Lawe Danga, SMM, Stefanus Musanai, SMM, Egidius Sumarno, SMM, dan Zakarias Beong, SMM.
Fr. Lorensius Ola Ruing dan Fr. Fransiskus Lawe Danga were ordained in the parish of Hadakewa - Lembata by Mgr. Frans Kopong Kung, Pr, bishop of the diocese of Larantuka, East Flores on July 5, 2013.
On the other hand, Fr. Stefanus Musanai, Fr. Egidius Sumarno dan Fr. Zakarias Beong were ordained in Denge, Manggarai, on July 19, 2013 by Mgr. Hubertus Leteng, Pr, Bishop of the diocese of Ruteng, West Flores.
After the ordination they celebrated their thanksgiving Masses at their respective parishes.
These ordinations were attended by the Indonesian Montfortian Provincial, Fr. Kasimirus Jumat, SMM and the General Assistant from Rome, Fr. Yoseph Dwi Watun, SMM.

May those who made their temporary and final vows, as well as those who were ordained priests be faithful to their call as Montfort Missionaries and be responsible for their mission in the Congregation and in the Church.


--------------------