Launching and Ongoing Totus Tuus Journey
Montfort News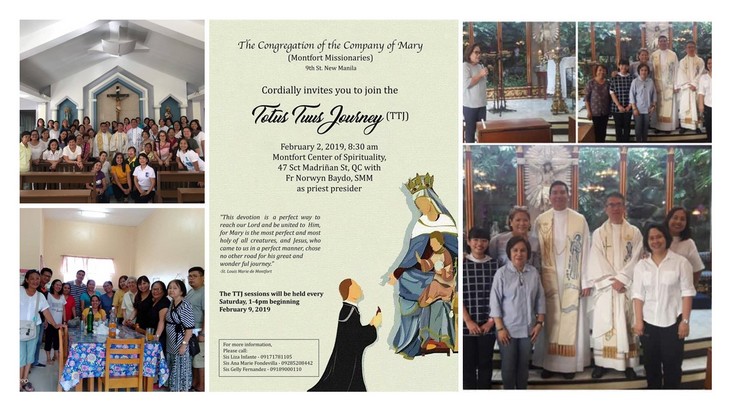 PHILIPPINES - During the Feast of the Presentation of the Lord on February 2, 2019, the preparation for Total Consecration to Jesus through Mary or more popularly known in the Philippines as Totus Tuus Journey (TTJ) was launched at the Montfort Center of Spirituality in Quezon City, Philippines.
The launching started with the celebration of the Holy Eucharist presided by the Delegation Superior, Rev. Fr. Norwyn V. Baydo, SMM with the AMQAH National Director, Rev. Fr. Federick B. Yumang, SMM as concelebrant. There were about 40 participants and most of them are officers and members of the Legion of Mary. This preparation is a close collaboration of the Association of Mary Queen of All Hearts Philippines and the Legion of Mary Senatus of the Northern Philippines.
After the Mass, there was an orientation about the process. Their sessions will be held at the center every Saturday from 1 to 4 o'clock in the afternoon. Another group was launched last February 11, 2019, the Feast of Our Lady of Lourdes in Goodwill Subdivision in Paranaque. The Holy Eucharist was presided by Delegation Superior Rev. Fr. Norwyn V. Baydo, SMM and the concelebrants were Parish Priest Rev. Fr. Virginio Pedregosa of Our Lady of Peace Parish, Diocese of Paranaque and Rev. Fr. Federick B. Yumang, SMM. The orientation on the whole journey was held after the mass. Their sessions will be held at the Goodwill Chapel every Saturday at 8 o'clock in the morning.
On March 10, 2019 while in Cebu, Fr. Federick also facilitated the ongoing Totus Tuus Journey with the members of the Friends of Wisdom, the lay associates of the Daughters of Wisdom. It was held in their community at Tuburan sa Gugma, Upper Calajo-an, Minglanilla, Cebu. He conducted the first two sessions on the Knowledge of Jesus Christ.
Fr. Federick B. Yumang, SMM
--------------------