Montfort News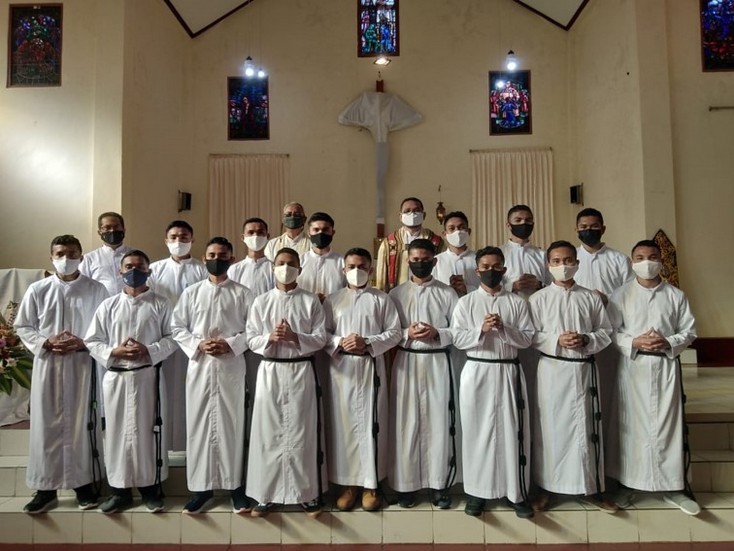 RUTENG, Indonesia - On the occasion of the Solemnity of the Annunciation of Mary this year, 15 young men began their novitiate year. They officially entered in their initial formation in the Company of Mary through a rite presided by Fr. Kristianus Jumi Ngampu, SMM, on behalf of the Provincial Superior of Indonesia, Fr. Antonius Tensi, SMM. It was done during the morning prayer at the main chapel of the Novisiat Montfortan, Labe, Carep, Ruteng, Flores, Indonesia.
In his brief reflection, quoting one of the most popular scenes in the life of St. Louis-Marie de Montfort (at the Cesson bridge), Fr. Tian said that the new novices should learn from our holy founder, the spirit of giving up everything and surrendering themselves to God alone. He asked them to really commit themselves in the process of knowing better and deeper the spirit of St. Montfort and the lifestyle of Montfort Missionaries with the help of the formators who are going to accompany them.
This celebration was done in the presence of all formators at the novitiate house, the priest confreres who work in two parishes in Ruteng diocese, the formators at the aspirancy house in Labuan Bajo, West Manggarai, and the two scholastics who are doing their pastoral experiences.
Likewise, the Montfortians had also their regular meeting to share their experiences and got some inputs from Fr. Kasimirus Jumat, SMM about the virtues of St. Joseph, in accordance with the letter of Pope Francis, Patris Corde.
All these activities were culminated with a Holy Mass presided by Fr. Kasmir, in which the Daughters of Wisdom and some members of the Montfortian associates (Kerabat Santo Montfort/KSM) took part.
Fr. Lodofikus Ndona, SMM
---