4th Fiesta Celebration of St. Louis-Marie Grignion de Montfort Chaplaincy - Philippines
Montfort News
DAGUPAN CITY, Philippines - On April 28, 2018, St. Louis-Marie Grignion de Montfort Chaplaincy, Bolosan, Dagupan City community joyfully celebrated its 4th Fiesta Celebration of their patron Saint, St. Louis-Marie Grignion de Montfort. This annual feast brought once more the cooperation among the parishioners. It was through this momentous event that unity, love and service are being strengthened.
It started with a solemn procession of the statues of St. Louis de Montfort and of the Blessed Virgin Mary. There were also tarpaulins with different images of St. Louis de Montfort carried by the people in the procession while the Holy Rosary was being prayed.
The Holy Eucharist was celebrated at the grounds of Mr. Tony Bautista, a parishioner and lay minister, to accommodate more people. It was presided by the Delegation Superior, Rev. Fr. Richard J. Magararu, SMM together with the parish priest, Rev. Fr. Santiago E. Casing, SMM and parish-vicar, Rev. Fr. Francisco M. Tacio, SMM. Fr. Richard in his homily highlighted the life of St. Louis especially his love for the poor and his tender devotion to the Blessed Mother.
A sumptuous dinner was served after the Mass. There were a lot of games and other musical and dance presentations performed by the members of the different Parish Ministries and of the Parish Pastoral Council. It was another meaningful journey in the lives of the parishioners as they continue strengthening the community. Indeed, it was a joyful and successful celebration made possible through the active participation of the community! Happy Fiesta!
-Marco V. Gamboa
-------------------------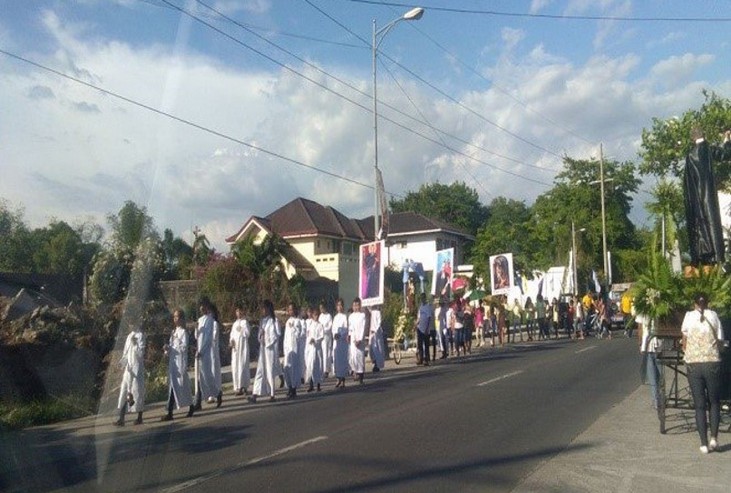 2018-06-10 01:48:48
Felicidades. . . ! ! !
🎼🎶🎵para ir a Jesús vamos cristianos, vamos por María. . . 🎵🎶🎼 para ir a Jesús es de los santos segura vía. . . ! ! ! 🎶🎼🎵