At 90, Fr. John McCann Returned and Celebrated Masses at his Alma Mater
Montfort News
NEW YORK, USA - St. Martin of Tours School in Amityville invited a special guest to help observe Catholic Schools Week on the first week of February 2017. Montfort Father John McCann, SMM a 1939 graduate of St. Martin's, was invited by parish pastor, Father Gerard Gordon, to celebrate the opening and closing Masses. Father McCann, who recently celebrated his 90th birthday, was the first St. Martin's graduate to become a priest. During the Masses and while visiting the school, Father McCann told many joyful stories of his years growing up in the parish, including climbing the bell tower daily to ring the Angelus, and his daily prayer at the altar of the Blessed Mother. Father McCann retired as pastor of Our Lady of Grace Church in Bantam, Connecticut, in 2014 at age 88. He will celebrate the 62nd anniversary of his ordination this year.
(Excerpts from

)

------------------------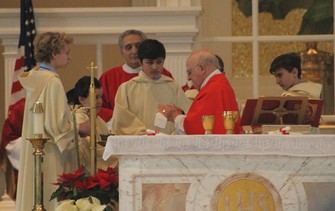 16 Feb 2017
Amazing! All the best Fr. McCann, long live.