Local Opening of the Continental Mission Year in the Philippines
Montfort News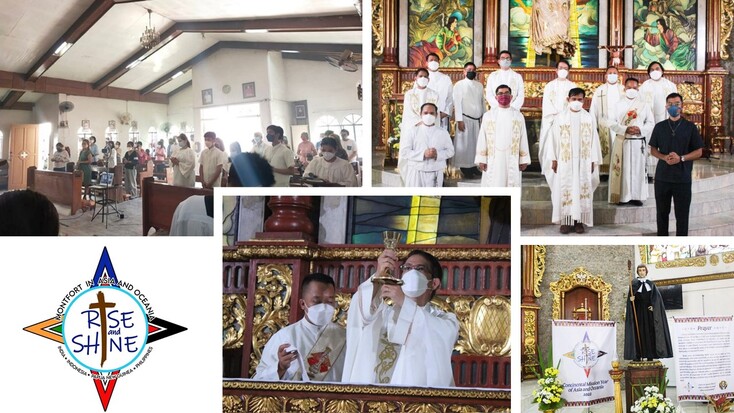 MAKATI CITY, Philippines – Animated with the spirit of prayer, unity, and brotherly collaboration in bringing forth the light of Christ's Wisdom, the local communities of the Philippine Delegation of the Montfort Missionaries celebrated the local opening of the Continental Mission Year 2022 last January 16, 2022 in the Montfort communities of Metro Manila and Pangasinan.
Themed as "Rise and Shine, Montfort in Asia and Oceania", it aspires for a collaborative effort to animate the congregation. The light of Christ that animates the congregation will strengthen the Montfortians, allowing them to walk in unity, get to know each other better, and pray for each other in the spirit of the Montfortian brotherhood, thereby enhancing missionary cooperation and collaboration.
Despite the closure of the public masses due to the pandemic, the local opening of the Continental Mission Year 2022 happened during the celebration of the Holy Eucharist. In Metro Manila, the local opening was led by Fr. Norwyn V. Baydo, SMM, the Delegation Superior, during the 9 AM Mass at Sta. Teresita Parish in Makati City. Likewise, Fr. Sherwin Y. Nuñez, SMM presided over the celebration in St. Louis-Marie Grignion de Montfort Parish in Dagupan City, Pangasinan at 8 AM.
Aside from the local opening, the Feast of the Child Jesus - Sr. Sto. Niño radiated a joyful ray to everyone. "Viva 'Pit Señor!" This feast indeed is close to the hearts of every Filipino. As per the homily of Fr. Norwyn Baydo, SMM, may the devotion of the Child Jesus reinvigorate us to renew the child-like identity within through being pure, humble and dependent to God. It will make us a guide to everyone to be close to God and will lead us to focus ourselves to God.
The Continental Mission Year officially opened in the Philippines from January 16 until December 12, 2022. Various activities are being planned for us to rise and shine as God's children in the Philippines and members of the Montfortian community. Please join us in walking together as mission collaborators in order for us to rise and shine as we embark on this new journey. We continue to pray for the success of all activities planned for the Continental Mission Year 2022. May the spirit of St. Louis-Marie de Montfort inspire us all to work together with passion and zeal in the light of Christ's Wisdom.
Bro. Lord Ansel Glenn N. Bongcas, SMM
[Video]

---