Revisiting of Programs for the Philippines Delegation
Montfort News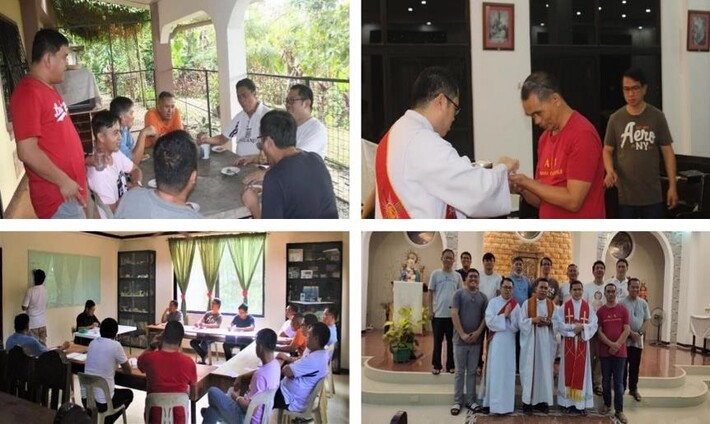 BULACAN, Philippines - Members of the Montfort Missionaries in the Philippines held an assembly last February 6-8, 2023 at the Montfort House of Prayer in San Jose del Monte City, Bulacan, with the goal of revisiting the priorities set by the current delegation council in the areas of mission, formation/ongoing formation, finance, and protection of the vulnerable.
On the morning of February 6, majority of its members arrived. The first session began at 3:30 PM, with Fr. Sherwin NUNEZ, SMM, laying out the assembly's objectives and schedule. It was followed by light refreshments, sports, and Holy Mass presided over by Fr. Sherwin Y. NUÑEZ, SMM, alongside Rev. Fr. Nelson M. CABAÑERO, SMM, and Rev. Armel R. COLLANTES, SMM. After the Mass, there was a "despedida dinner" for Fr. Nelson, who will return to his mission in the United Kingdom on February 7.
On February 7th and 8th, there was an in-depth discussion of the respective topics. Fr. Sherwin provided an overview and update on Protection of Minors and Vulnerable in the afternoon. The day concluded with Holy Mass presided over by Fr. Federick YUMANG, SMM, at 6 p.m. On February 8, Fr. Norwyn V. BAYDO, SMM, presided over the Eucharistic Celebration, which concluded the meeting. Delegates returned to their respective communities in the afternoon of February 8.
We continuously and fervently pray for the fulfillment of the plans and aspirations that the delegation has for the glory of God Alone and for Him to be known and loved.
Montfort Communications
Philippines
---