Totus Tuus Journey Batch 26 in Cebu, Philippines
Montfort News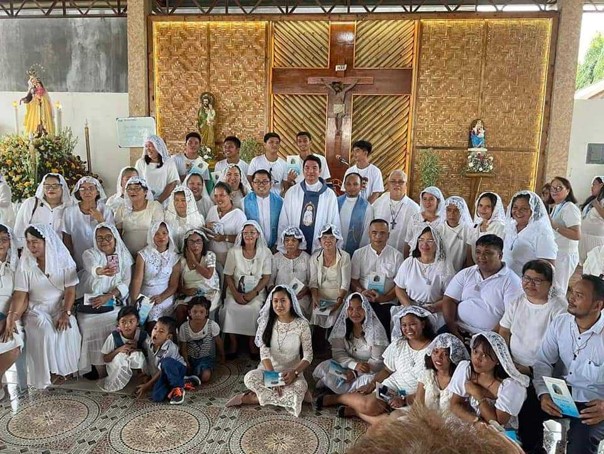 MINGLANILLA, Cebu - On Sunday, July 16, 2023, a significant milestone was reached as Totus Tuus Journey (TTJ) Batch 26 completed their thirty-three-day session and underwent the Consecration Day at Montfort Cebu Mission House, Lower Calajoan. The journey began with forty-seven enthusiastic participants, and after weeks of spiritual growth and dedication, forty individuals successfully completed the program.
The Consecration Day commenced with a solemn and sacred ceremony. Each participant made a personal promise, placing both hands on the Holy Scriptures, followed by lighting and kissing a candle as they recited and renewed their baptismal vows. The highlight of the event was the Holy Eucharist celebrated at the altar, symbolizing the participants' dedication to their faith.
The Consecration and Holy Mass were presided over by Rev. Fr. Federick YUMANG, SMM with Rev. Fr. Samuel GONZALEZ, SMM, and Rev. Fr. Armel COLLANTES, SMM, as concelebrants. The event was attended not only by the participants' families but also by members of TTJ and AMQAH Associates.
The day's celebrations were further enhanced by the observance of the Feast of Our Lady of Mount Carmel. Following the conclusion of the activities, all attendees were invited to partake in a salo-salo or Lunch Party, fostering a sense of community and camaraderie among the participants and their supporters.
The successful completion of Totus Tuus Journey Batch 26 was a testament to the dedication and hard work of the participants and the unwavering support of the organizing teams from the beginning of the program to its culminating event. This spiritual journey has undoubtedly left a lasting impact on the participants' lives, equipping them to face life's challenges with renewed faith and determination.
Montfort Communications - Philippines
---