The 350th Anniversary Jubilee of the Birth of Saint Louis-Marie Grignion de Montfort (Sunday, 20th February 2022 – Sunday, 30th January 2023)
Montfort News
"Let us bless the Lord forever in his kindness."
(Father de Montfort, C 52, 1)
MONTFORT-SUR-MEU, France - Louis Grignion, who became Saint Louis-Marie Grignion de Montfort, was born on Tuesday, 31st January 1673 in Montfort-sur-Meu. On Tuesday, 31st January 2023, we will celebrate the 350th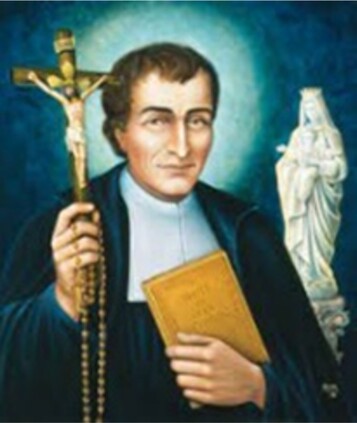 anniversary of the Birth of this Saint Founder of the Three Congregations (Daughters of Wisdom, Brothers of Saint Gabriel and Montfort Missionaries). Many secular and lay Institutes live from his spirituality.
This great missionary and spiritual master, originally from Montfort-sur-Meu, is the Patron Saint of the Central Parish of the Deanery of Brocéliande.
The celebration of the 350th anniversary of his birth will last throughout the jubilee year, allowing, on one hand, to give thanks to the Lord and on the other hand to get to know Father de Montfort better. In fact, the slogan of the jubilee sounds like this: Father de Montfort, who are you really?
The opening Mass of the Jubilee will be celebrated on Sunday, 20th February 2022 at 10.30 Am at Montfort-sur-Meu. It will be presided over by His Eminence Philippe Cardinal BARBARIN.
The closing of the Jubilee will take place on Sunday, 29th January 2023, at 10.30 A.M., in the same Church of Montfort-sur-Meu. The closing Mass will be presided over by Most Reverend Pierre D'ORNELLAS, the Archbishop of Rennes, Dol and Saint Malo.
During the Jubilee Year, several initiatives will be on the program which is prepared by a Jubilee Committee in order to achieve two objectives (to give thanks to God and to get to know better this Marian Saint). The program includes the following initiatives:
Moments of prayer / Eucharistic Adoration with the texts of Father de Montfort;




A walk in the footsteps of Montfort with the Parish of Montfort;




Open door at the birthplace (twice during the year);




Hollycash on Saint Louis-Marie for young people at the College




Viewing of a video followed by a visit to the birthplace with a session towards questions and answers, for the children and teenagers in the catechism.




Concert performed by the Brocéliande choir with Jacques;




Concert on the Canticles of Father de Montfort, with Father Willy;




Fiery prayer at Saint-Lazare chapel;




Teaching, conference, panel on Father de Montfort,




A statue of Father de Montfort would be placed at the outside corner of the Birthplace to attract people's attention. The same applies to the road signs for the Saint's birthplace. We are waiting from the City Hall for a positive reply.
As time goes on, these initiatives and activities will be placed on the calendar and published for everyone. We thank God for this time of grace that he gives us. He has placed in our lives this Holy "God-fearing" to accompany us in following Christ and being faithful to him. With the Virgin Mary, we sing "Magnificat" for these marvels. May Saint Louis-Marie de Montfort and Blessed Marie-Louise of Jesus look down from heaven on the vines which they planted and pray to the Lord to bless them abundantly and make them bear fruit for the glory of God Alone.
Fr. Jean Marie Helpa RAKOTONDRAVAO, SMM
---