ROME: Internationality given dynamism by the meaning of the Feast
Montfort News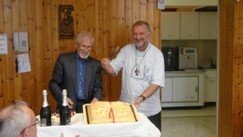 On Sunday 29 September 2013, in Rome, Montfortian internationality manifested the wealth of its roots around the world during the celebration of the Golden Jubilee of Religious Life of Father Santino, accompanied by Brother Enrico Vidau of the Italian Province.
This community feast showed respect for the missionary activity of our two Jubilarians, taking the time to offer Thanksgiving with the parish of Saint Louis Marie, over the road from our General House and conducted by our confreres of the Italian Province. A conjunction of circumstances allowed us thus to associate ourselves with the Golden Jubilee of this living and young parish. The 11 o'clock Mass brought together our voices to acknowledge and give thanks to Him who calls to the Harvest.
Afterwards, the two communities of the the Montfortian General House, along with a delegation of our Sisters of Wisdom and our Brothers of St Gabriel, and with the presence of the couples who work in the service of the house, responded to the invitation to a Papal "buon Pranzo". This was the moment for all to express to Father Santino, still accompanied by Brother Enrico Vidau, our thanks. Spontaneously, but with heartfelt enthusiasm, the different cultures present were able to express themselves in ways that respected their own countries of origin. Our Croatian students, our Indonesian confreres, Désiré from Madagascar, a Spanish delegation with Father Enrique, and even France supported by Désiré from Madagascar and Father Jean de Dieu from the Congo, and above all the presence of our confreres from Italy: everyone was able to give proof of initiative and cultural richness.
Since then, it is up to us to prolong our Magnificat with Father Santino and all the Jubilarians of this year of 2013.

--------------------