"Your true vocation consists in acquiring the holiness of God" (SM 3)
Montfort News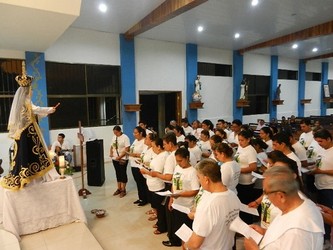 [FR]
[ES]
Chontales, Nicaragua – On the eve of St. Louis de Montfort's feast, Brother Oscar Cardenas convened a gathering of our lay-consecrated collaborators for an evening of prayer and reflection.
On the 25th of April the first gathering was held at the parish of St. James the Apostle in Santo Tomas. This was followed with another gathering at our parish of Mary, Queen of All Hearts in La Gateada. Both parishes held these gatherings in an atmosphere of quiet and prayer. It was an opportunity for them to reflect on what it means to live the consecration each day and also to make final preparations for the celebration of Montfort's feast on the 28th of April.
Many of the consecrated persons who came were able to renew their baptismal promises before symbols that reminded them of their commitment to Jesus and to the Church. The three Montfortian confreres in Nicaragua accompanied these celebrations, Fathers Alonso Lazo and Harry Flores, and Brother Oscar Cardenas.
We hope to continue sharing our spirituality with people who desire to work for the Kingdom, and at the same time, to accompany those who already have pronounced their "Yes" to God. Let us all pray for each other as confreres for this mission the Lord has given to the Congregation in Nicaragua.
------------------------