COLOMBIA: Some News from the Province
Montfort News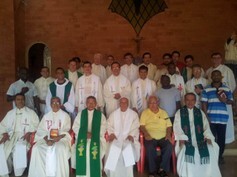 1. For five days, from 20 to 24 of January, the Colombian Province had an Annual Assembly. The theme developed was the Provincial Planning. We were accompanied by Fr. Jim Brady, General Bursar who also helped us to continue the reflection on the project about the Protection of children and vulnerable people.


2. On 31st of January we welcomed in our Pre-Novitiate two young men, Luis Miguel Acosta Pabon and Arnol Felipe Ibagon Corredor. Welcome! We journey with you and accompany you with our prayers.


3. After a long process of discernment, on 2nd February, on the Feast of the Presentation of Jesus in the Temple, we have decided to open a new missionary presence in the midst of a poor community at the Archdiocese of Medellin.


-Fr. Gonzalo Tabares Builes, SMM




--------------------