T. R. P. Alexandre JOSSELIN
Significant Persons > Superior Generals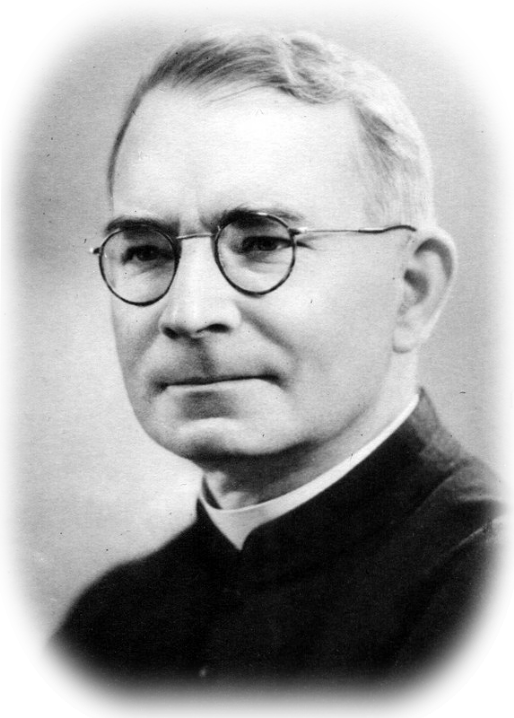 T. R. P. Alexandre JOSSELIN
Supérieur Général de 1947 à 1957

Naissance à Campénéac (Morbihan) en 1901
Entrée dans la compagnie de Marie en 1922
Ordination sacerdotale en 1929
Election comme supérieur général en 1947, à 46 ans, jusqu'en 1957
Supérieur général durant 10 ans
Mort à Nantes en 1957, à 56 ans, sépulture à Saint Laurent sur Sèvre


Il est né dans la même Bretagne que Saint Louis Marie. Secrétaire personnel du P. Ronsin, puis Provincial de France, il est élu supérieur général en 1947, trois mois avant la canonisation du Fondateur. Il a la joie de vivre ce moment attendu depuis tant d'années et de présider les fêtes en Italie et en France.
Il décide et réalise le transfert de la Maison Générale à Rome. Sur mandat du Chapitre il publie les nouvelles Constitutions et prépare le premier Nécrologe et le Cérémonial de la congrégation. Il institue le "troisième an". Il suit avec une attention particulière le travail de formation dans la congrégation. La Compagnie continue son développement et ses ouvertures. On érige la Vice Province des États Unis (1948). Il y a des ouvertures vers l'Espagne (1953) et le Portugal (1952). On renforce aussi l'apostolat "écrit". On se préoccupe de la conservation des manuscrits du Fondateur en les confiant aux moines basiliens de Grottaferrata pour les restaurer.
Il meurt suite à un accident de la route à Nantes alors qu'il se préparait à accompagner le Chapitre Général des Filles de la Sagesse à Saint Laurent.

Fr. Alexandre JOSSELIN
Superior General (1947 – 1957)

Born in Campénéac (Morbihan) in 1901
Entered the Congregation in 1922
Ordained priest in 1929
Elected Superior general in 1947 at the age of 46, until 1957
Superior general for 10 years
Died in Nantes and was buried in Saint-Laurent in 1957 aged 56


Born in Brittany, just like St Louis Marie, he was the personal secretary of Fr. Ronsin, then Provincial of France, and was elected Superior General in 1947.three months before the canonisation of the Founder. He had the joy of experiencing this long-awaited moment and presiding over its celebration in Italy and France. He decided on the transfer of the General House to Rome, and saw it achieved. Mandated by the General Chapter, he published the new Constitutions and prepared the first Necrology of the Congregation and its Ceremonial. He instituted the "Third Year". He paid particular attention to the work of formation in the congregation, which continued to grow and open new foundations. He erected the province of the United States (1948). There were new foundations in Spain (1953) and Portugal (1952). He also strengthened the "apostolate of the word". He was concerned for the preservation of the manuscripts of the Founder, which he entrusted to the monks of Grottaferrata to restore them. He died in a road accident in Nantes while preparing to attend the General Chapter of the Daughters of Wisdom in Saint-Laurent.

P. Alexandre JOSSELIN
Superiore Generale dal 1947 al 1957

Nasce a Campénéac (Morbihan) nel 1901
Entra nella Compagnia nel 1922
Viene ordinato sacerdote nel 1929
E' eletto Superiore Generale nel 1947 a 46 anni
Superiore Generale per 10 anni
Muore nel 1957 a Nantes a 56 anni ed è sepolto a St. Laurent-sur-Sèvre


Nasce nel 1901 a Campénéac (Morbihan) nella stessa Bretagna di San Luigi Maria. Entra nella Compagnia nel 1922 e viene ordinato sacerdote nel 1929. Segretario personale del P. Ronsin e poi Provinciale di Francia, è eletto Superiore Generale nel 1947, tre mesi prima della Canonizzazione del Fondatore. Ha la gioia di vivere questo momento atteso da tanti anni e di presiedere le feste in Italia e in Francia. Decide e realizza nel 1950 il trasferimento della Casa Generalizia a Roma. Su mandato del Capitolo emana le nuove Costituzioni e appronta il primo Necrologio e il Cerimoniale della Congregazione. Istituisce il "Terzo anno" come tempo di formazione dopo un certo periodo di vita consacrata e missionaria. Segue con particolare attenzione l'opera formativa della Congregazione. La Compagnia continua il suo sviluppo e le sue aperture. Viene eretta la Vice-Provincia degli Stati Uniti (1948). Si hanno aperture in Portogallo (1952) e in Spagna (1953). Si rafforza anche l'apostolato "scritto". Il P. Josselin si interessa alla conservazione dei manoscritti del Fondatore affidandoli ai monaci basiliani di Grottaferrata per un restauro. Muore a Nantes nel 1957 in seguito ad un incidente stradale, mentre si prepara ad accompagnare il Capitolo Generale delle Figlie della Sapienza. E' sepolto a St. Laurent-sur-Sèvre.